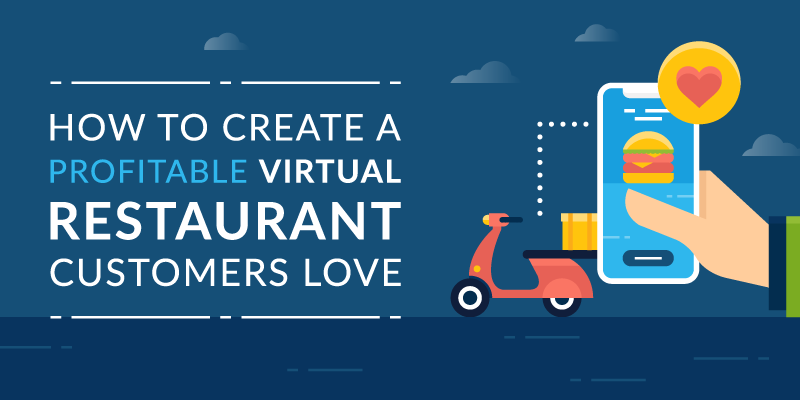 Virtual restaurants are an excellent opportunity for restauranteurs to build profitable businesses with relatively little risk.
You can quickly start by working out of your existing kitchen or renting a ready-made space. Then use delivery apps to get instant access to a huge audience of potential buyers.
This article will guide you through all you need to know to create a virtual restaurant.
What Is a Virtual Restaurant?
A virtual restaurant is a business that exists only to sell food for delivery. Owners typically run them out of their existing brick and mortar restaurant or by renting space in a large shared kitchen that is built especially to house virtual restaurants.
Here are two common examples of how this could work:
A local burger joint owner could create a virtual taco restaurant that they operate from within their existing kitchen.
An entrepreneur with a new restaurant concept could rent space in a shared kitchen as a low-cost way to start selling.
These businesses then market their food on delivery platforms. The customer has no way of knowing whether the restaurant is virtual or not when they order.
It's possible to supplement delivery platform sales with those made directly with your restaurant. Do this if you have an existing delivery infrastructure or if you're willing to put one in place.
The benefit of this is that you'll avoid the large fees charged by delivery platforms.
Why Are Virtual Restaurants so Popular?
Virtual restaurants are popular because they are a very low-cost, low-risk way to quickly start a food business. They also match the changing demands of consumers.
Here are some of the main factors that have led to their success.
Delivery Apps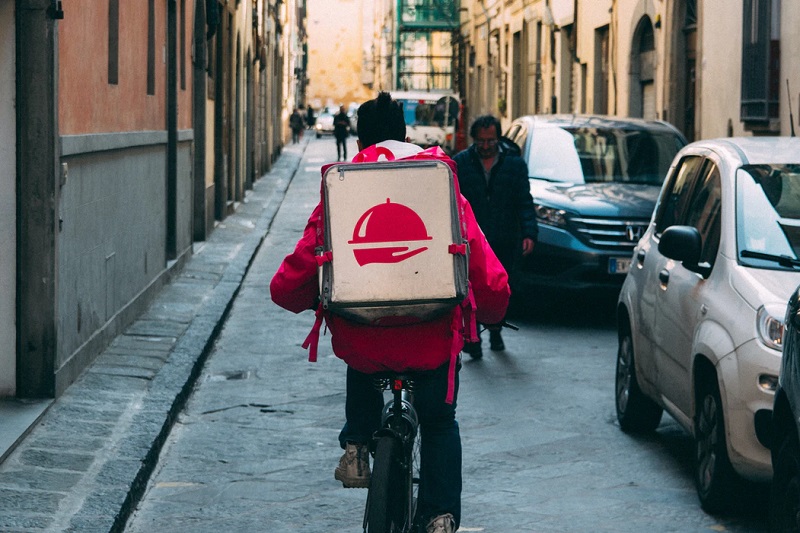 The biggest factor is food delivery apps. This has made it easy for businesses to offer home delivery. They don't have to hire drivers, create a storefront, or even market their restaurant outside the platform. Instead, they can focus on preparing meals.
Ghost Kitchens
Ghost kitchens are a relatively new restaurant trend that arose to facilitate virtual restaurants. They are large shared kitchens which entrepreneurs can rent space in to run virtual restaurants. These spaces contain everything a budding restaurateur needs to get off the ground, such as cooking equipment and storage. This significantly reduces the barrier to entry.
Changing Consumer Tastes
Today people are more open to trying new types of food, and virtual restaurants are a great way to meet this demand.
Previously, opening a new kind of restaurant would have been a huge risk. Now, restaurateurs can quickly open virtual restaurants to test demand before investing in their own premises.
COVID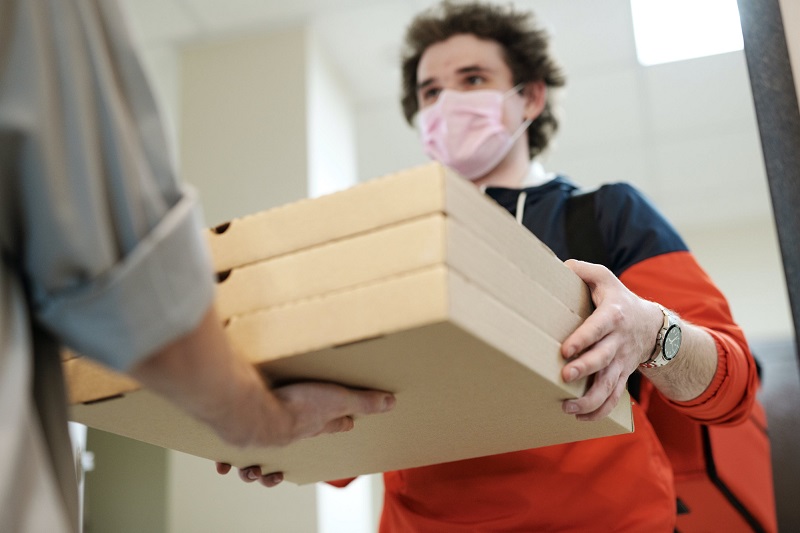 While virtual restaurants were already becoming popular before COVID, the pandemic boosted this type of business's growth to another level.
Restaurants that previously operated entirely offline had to adjust their business model to an online-only one that enabled them to continue making sales.
Additionally, some restaurants with menus unsuitable for delivery began to experiment with new concepts that would fit the virtual restaurant model.
Are There Any Downsides?
There are some risks associated with opening a delivery-only restaurant. As these businesses tend to be entirely reliant on a food delivery app's algorithm, it can be hard to make yourself stand out. A drop in your ranking may see sales crash.
You're also stuck with the huge fees these services charge, which can often be between 15% and 30%.
You can offset these risks by working on your branding and marketing so you'll become less reliant on the delivery apps. We've included strategies to help later in this article.
How to Start a Virtual Restaurant
Here are four general steps you can take to start your virtual restaurant.
Plan Your Concept
The first step is to plan your concept. If you're reading this article, you may already have a good idea about the type of food you want to offer. But there are some things you should check to confirm that it's a good idea.
Optimize for Delivery
The most obvious factor is that the food needs to be optimized for delivery. While it is possible to package pretty much any meal and send it out, some cuisines work better than others.
You want to be sure that your food will survive the journey and still be in great condition when it arrives.
A good example of a restaurant that optimized its menu for delivery is Tomahawk Steak house. Steak isn't the ideal food for delivery, so instead of forcing something that doesn't fit, it opened two new concepts better suited to delivery.
These include a parmo restaurant that serves breadcrumbed chicken fillets covered in bechamel sauce and the Sunday Lunch Club, which offers delivery roast dinners.

Check Competition
You must check the competition before starting. If the market for the cuisine you want to serve is saturated, you'll struggle to stand out unless you can offer a particularly compelling twist on the concept.
You should also be wary if there is zero competition. You'll have a huge opportunity to establish a name, but you may also find that there simply isn't a demand for that type of food where you live.
How Will the Food Integrate with Your Current Offering?
If you plan to run your virtual restaurant out of your existing venue, make sure your new concept fits with your current restaurant.
When New York restaurant Mighty Quinn's was planning its new concept, it had to decide between pizza, burgers, or tacos. As the restaurant's existing space didn't contain pizza ovens or grills, tacos were the obvious choice. It then acquired the rights to an existing taco brand, Otto's Tacos, which it sells for delivery via apps.

Also, look for common ingredients to reduce costs and waste. If the food uses the same equipment you'll have lower startup costs, but you may struggle to cook both types of food simultaneously.
Find a Space
Once you've planned your virtual restaurant concept, you need to find a kitchen to operate it from.
If you plan to run your new concept from your existing brick and mortar venue, consider how preparing the food will fit into your workflow. This will be a similar process to adding a new menu item. Just be sure that you have enough space to satisfy demand.
If you plan to run your business from a ghost kitchen, search for venues in your area. Most ghost kitchens are situated in highly populous areas with high demand. Searching on Google for "ghost kitchen" in your city is the best way to see available options.
Keep an eye out for unusual opportunities. For example, since COVID hit, many hotels have begun renting out their unused kitchens to people who run virtual restaurants.
Most ghost kitchens come fully equipped, including essential items like butcher blocks, but be sure to check that it has everything you need.
Once you've found a good spot, you need to choose an appropriate plan. Each kitchen operator will have its own pricing, but you typically have a lot of flexibility.
For example, Karma Kitchen lets virtual restaurants choose the type of space they want, when they will use the kitchen, and on which days.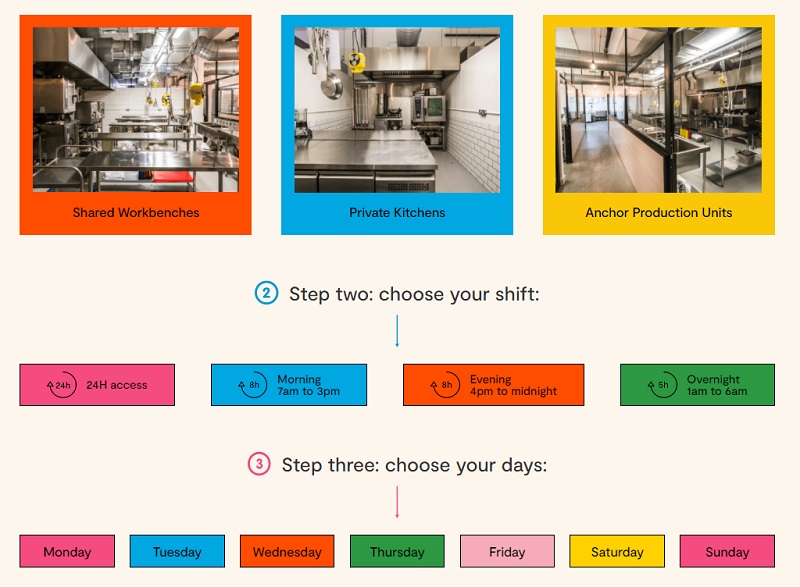 Choose a Third-Party Delivery Platform
The delivery platform you partner with is a huge decision to make. Look at the available options in your area and consider factors like:
Commission
Reputation
User base
Specialization
For many restaurants, the best option will simply be to sign up for all available services. This will maximize the potential size of your audience and provide the most exposure.
At this point, you can also consider whether you will enable other forms of delivery. For example, you could hire your own delivery drivers and provide a service via phone or via a branded app. Or you could offer food to takeaway.
These options enable you to avoid the commission charged by delivery apps, although you'll have to pay your drivers. If you want to explore this option, consider offering it alongside delivery app sales to reduce risk.
Brand Building and Marketing
While you'll typically start by running your business via delivery apps, it is still important to build a strong brand to reduce your reliance on algorithms for new customers.
We have a ton of content about how restaurants can market their business online and via platforms like Instagram and Facebook.
Some of the basic things you'll need to do include:
Create a Website
Platforms like Wix, Squarespace, and Bentobox make this very easy for restaurants to do. If you already have a website for an existing restaurant, you could even just create a new page for this brand on the same URL.
Here's an example: 
Virtual de Lux has created a website with individual pages for each of its virtual restaurant concepts. From here, you can access the menu and delivery options for each one.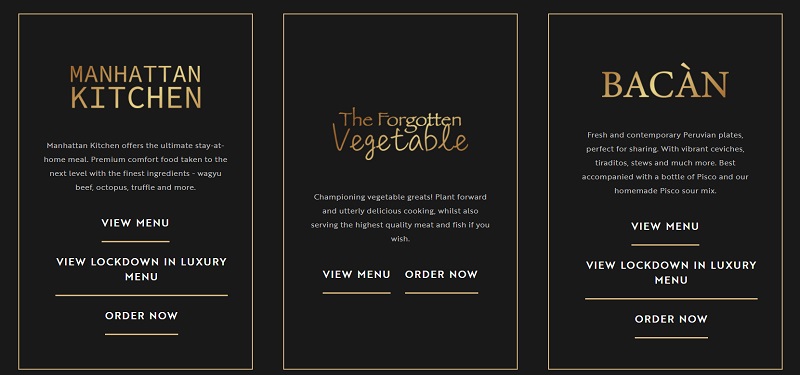 Claim Your Social Media Profiles
Next, create profiles on Facebook and Instagram. These will help you grow a following and ensure your business shows up when people search for you on either platform.
You're at a big advantage if you have an existing account, as you can cross-promote your new project to quickly grow a follower base.
That's what London restaurant BAO did when it opened its virtual restaurant Rice Error. The account for the latter restaurant now has over 14,000 followers.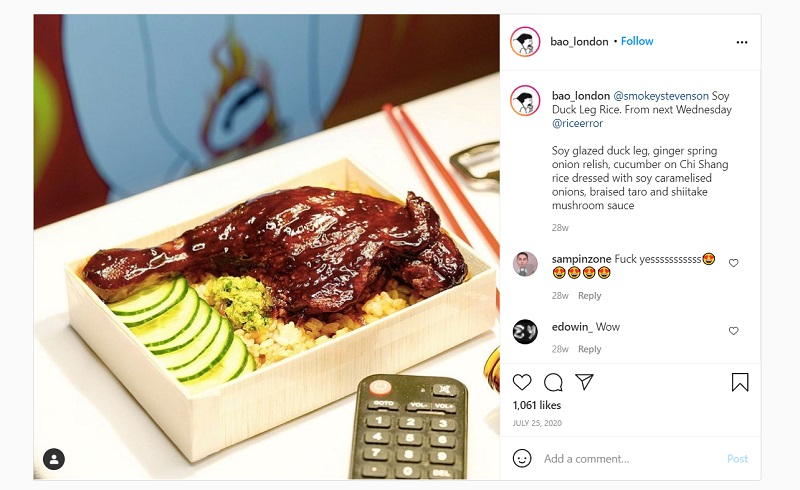 Complete Your Google My Business Profile
Creating a Google My Business profile is an easy way to get your restaurant to the top of the Google Search results when people search for you. Here you can display information about your business as well as customer reviews and images of your food.
Build an App
Creating your own app is a great way to build a platform you own and reduce reliance on third-party apps. You can offer features like customer communication, rewards programs, and access to your full menu.
Once you've built a following, you could even use your app to offer your own delivery service that runs alongside (or even instead of) your product on delivery platforms. Doing this allows you to bypass delivery app commissions and increase profits.
Summary
Creating a virtual restaurant is a low-cost way to get started in the food business or increase your offering.
The biggest factor in your success is choosing a cuisine that people love and then doing it well. Good branding and marketing is also a huge help.
Just be aware that while delivery apps are certainly useful, they reduce your profit margin and you can become reliant on them. Consider building your own audience to reduce your dependence on these platforms.
---