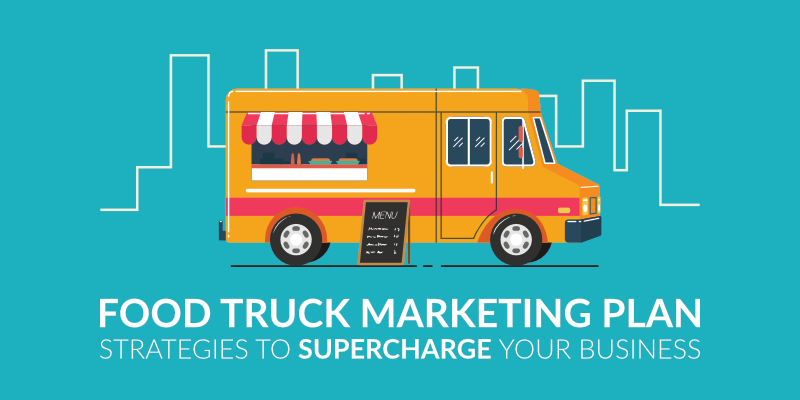 Thinking about starting a mobile food business? A food truck marketing plan will help drive you to success.
Foodies are always after new experiences and food trucks are a low-cost way to satisfy this demand. They are no longer just associated with anonymous roadside burgers.
And they can be a good business model. A FoodTruckEmpire survey found that over 85% of owners questioned brought in over $100,000 annually and more than 50% broke the $150,000 mark.
There are over 4,000 food trucks in the US, and nearly half of all millennials have eaten from one. But their popularity also means there's plenty of competition. While it is hard to stand out, marketing can help.
This article will help you build a food truck marketing plan to get your business off the ground.
Food Truck Marketing Plan: 11 Top Strategies
We've analyzed the food truck marketing strategies of some of the most popular food trucks to find out exactly how you can take your business from strength to strength.
Define Your Food Truck's Audience
Before creating a food truck marketing plan, you need to define who your target customer is. Use this knowledge to ensure your marketing strategy reaches these people.
There are many different audiences you could choose. Some food trucks target young healthy eaters, others target families, while some target foodies with adventurous tastes.
The most effective marketing strategy for each of the above categories will be entirely different, so you must get this part right.
If you already have customers, it's easy to create profiles for the different types of people who visit your food truck. If you don't, think carefully about factors like:
Who lives in the location near your truck?
Who will the food appeal to?
Who visits other similar businesses in your area?
Build a profile for each of the customer groups that you want to target your marketing towards.
Build Community Appeal
Successful food trucks are often seen as part of the local community. Building customer loyalty in your area is therefore very important.
Popular food truck Kogi has a marketing presence that is all about their connection to their area: Los Angeles.
Take a look at their About page on their website: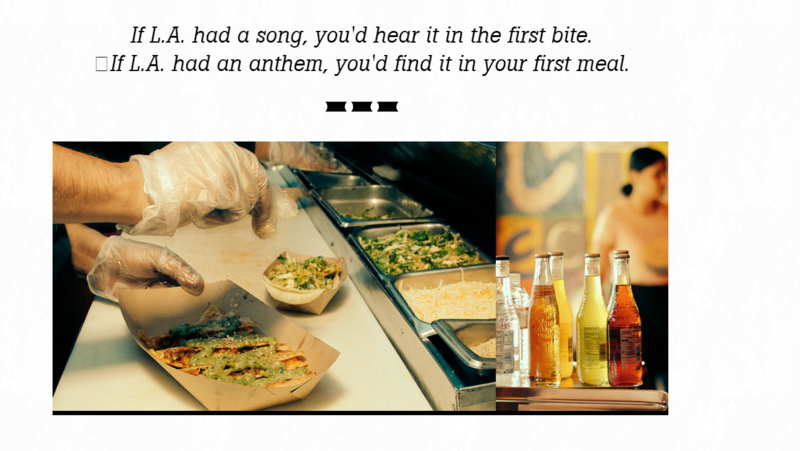 They feature a prominent, poetic message that is about having a sense of connection to the LA scene. They're creating an emotional link between their food and their audience's sense of belonging to their community… and that's very powerful.
If we jump on the Streetza food truck website we again see they place a big emphasis on their relationship to Milwaukee, where their food truck business is based.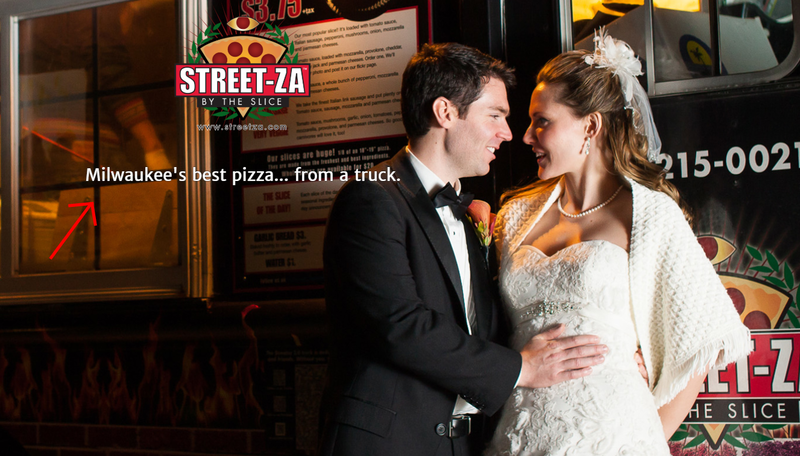 Notice the images they feature on their homepage carousel. In the pic above we see a newly married couple posing outside the Streetza food truck. This signals to customers that people in the Milwaukee area see their food truck as an iconic establishment; the kind of place you'd pose for a wedding photo. This kind of emotive, community-focused element helps successful businesses create memorable and effective food truck marketing strategies.
Take Mouthwatering Photos
Food photography should be a big part of your food truck marketing plan.
Focus on taking high-quality, well-lit, colorful photos of your food. You can use these on your site and in your social media marketing.
If you don't have a talent for taking photos, consider hiring a professional photographer. While this will eat into your budget, the investment may be worth it in the long run.
LA-based taqueria Kogi uses tasty-looking food photos on its webpage. These images tempt the visitor to try the food truck's tacos. Imagine the same website without photos, or with lower quality images. Chances are it wouldn't be half as enticing.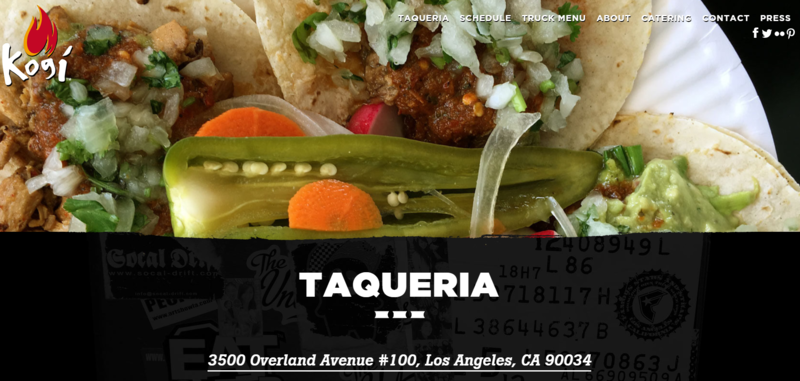 Build a Website
Most businesses nowadays have websites and the food truck industry is no exception. It's easy and cheap to create a website using platforms like Squarespace or Wix.
Your website acts as your online hub. You will link to it on all your other profiles. It will also be useful to have if you try to attract press attention—more on that later.
Add information about your business such as your menu, and images. Consider adding an online ordering portal or links to your mobile app.
For many food truck owners, the schedule is one of the most important parts of the website. If people don't know where your truck is and at what times, they won't be able to visit it.
Make sure you design your food truck schedule in an attractive and easy to read way as Kogi do: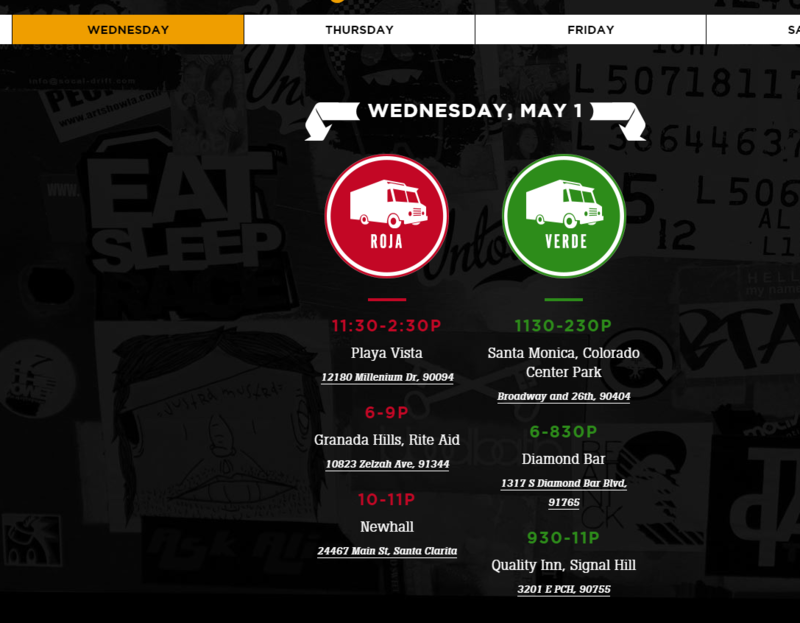 You can also publish your schedule to your social media profiles and Google My Business listing. We'll go into further detail about these platforms later in this article.
Create Social Media Profiles
No food truck marketing strategy is complete without a strong social media presence.
Food trucks should create a profile on Instagram and Facebook. You may also want to create profiles on TikTok, Twitter, or YouTube depending on your skills and your target audience.
When you create your social media profiles make sure they are consistent with your brand.
Here's Streetza's Facebook page: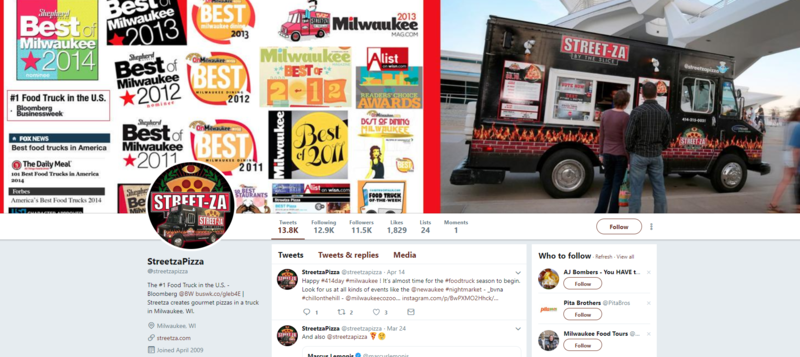 The cover and profile photo are instantly recognizable as belonging to the brand. The logo is clearly displayed in both.
The Streetza profile description contains a huge value point: that the truck has been named as one of the best in the world. When writing your profile, follow Streetza's lead and put the most important information about your truck first.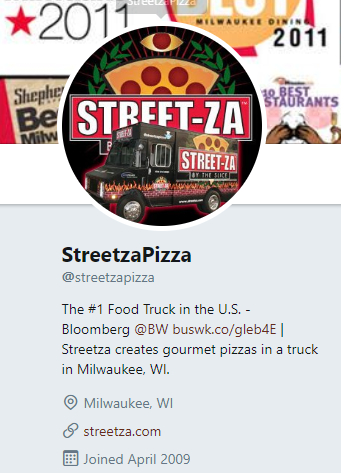 When creating social media profiles, you also need to think about:
Reviews
Images
Posts
Tags
And more
This article looks at five of the best restaurant Facebook pages and explains what makes them so effective. It contains plenty of great advice you can use for your food truck marketing plan.
Take Advantage of Instagram's Foodie Potential
When it comes to your food truck marketing plan, Instagram is a biggie.
It's a way to not only post appealing images but keep your followers up to date.
It's no secret that food fans LOVE Instagram and the best food trucks tap into this.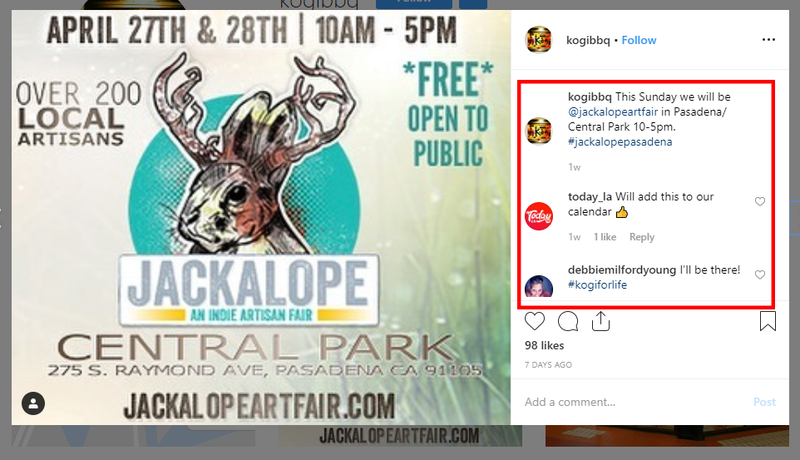 The Kogi food truck has over 21,000 followers on Instagram and their posts get TONS of engagement.

Their posts show how popular their food truck is and they regularly keep people up to date with their latest schedule and activity.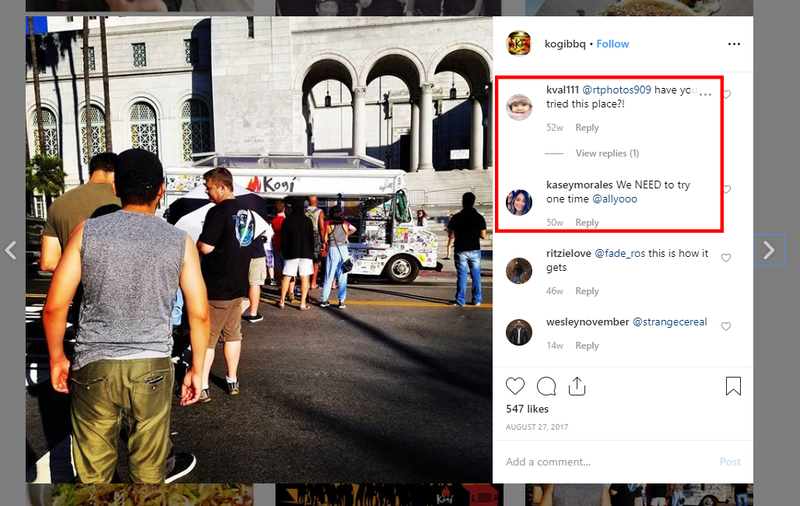 There are many strategies you can use to promote your food truck on Instagram. Here are some of them:
Post high-quality content to your feed and stories regularly.
Build a community by interacting with customers who comment or tag you in their posts.
Consider resharing user-generated content when relevant to show you are listening.
Look for popular food-related hashtags. Check out the profiles of competitors and influencers in your area to find the best ones to use.
Team up with influencers with the same audience you target. Micro-influencers can be surprisingly cheap to work with.
Create content with businesses in your area and share with your followers.
Run enticing contests to grow your audience.
This article on Instagram marketing for restaurants discusses each of the above strategies in more detail. We also do a deep dive on five food businesses that already have effective strategies.
Generate Press Attention
Generating press attention is a great way to give your food truck a marketing boost.
While it's not easy to get featured in the press, it's possible if you target the right publications with interesting stories.
First identify publications that might want a feature about a food truck. Look for local news outlets or food blogs. You probably have a good idea about the publications in your area, but there are often many smaller ones that can still provide good publicity. To find these outlets just head to Google and start searching.
You'll then need an interesting story to share. Things that are purely promotional are unlikely to appeal to editors. Consider the following ideas:
Innovative menu items
Helping in the community
Interesting events
New ways of serving
This article contains lots of information about how food businesses can generate PR. It also includes the story of how an AppInstitute customer got featured in the national press for making and selling deep-fried Jaffa Cakes.
Keep Your Food Truck Active on Social Media
It might sound obvious, but you need to be very active on social media.
Take lots of photos and videos, post updates, highlight new additions to the menu, dishes of the week, rave reviews you've received and so on.
Importantly, every time you arrive at your next scheduled stop tweet to let people know where you are. Tweet local landmarks to help people find you and let people know how long you'll be around for. You can use a site like Foursquare to check in to your locations and give your audience real-time updates about your whereabouts.
It's a good idea to have some scheduled posts lined up so you don't have to worry about posting live when you're in the middle of setting up in your next location.
Schedule posts using free tools like Facebook Pages Manager, Buffer or Hootsuite. If you get organized you should be able to manage your social media account with just 30 mins a day or 2-3 hours a week, if you batch similar tasks together.
Your food truck social media strategy should involve a wide range of different types of posts.
Here's some pointers:
Use well-lit, interesting photos in your posts, they'll get more engagement.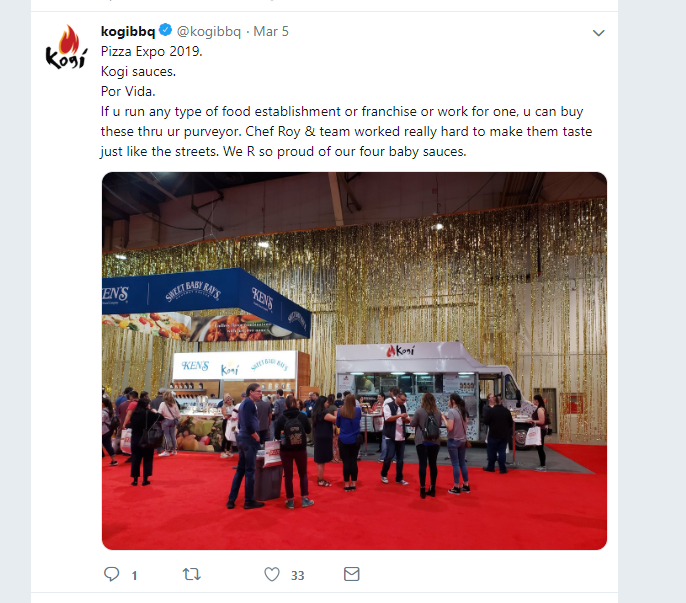 Startup conversations about topical or fun issues, local events or national holidays and so on.
There are loads of World Food Days you can use to start up conversations, like Pie Day (January 23rd), World Pizza Day (February 9th) and Pancake Day (March 5th). Why not serve relevant meals on these days and post on social media to tell your fans about it?
Run competitions – offer coupons for the best food photographs or selfies with your truck or enter people into a prize draw if they share your post with a friend. You can use tools like Woobox to run social media contests across all platforms.
Create a Google My Business Account for Your Food Truck
When it comes to marketing your food truck business, location is everything.
People will be searching for food in their local area and you want to make sure you show up.
One of the best ways to do this is via a Google My Business account. This will help you appear in the results when people look for relevant businesses in your area on Search and Maps.
Here's what you get when you search for "food truck London":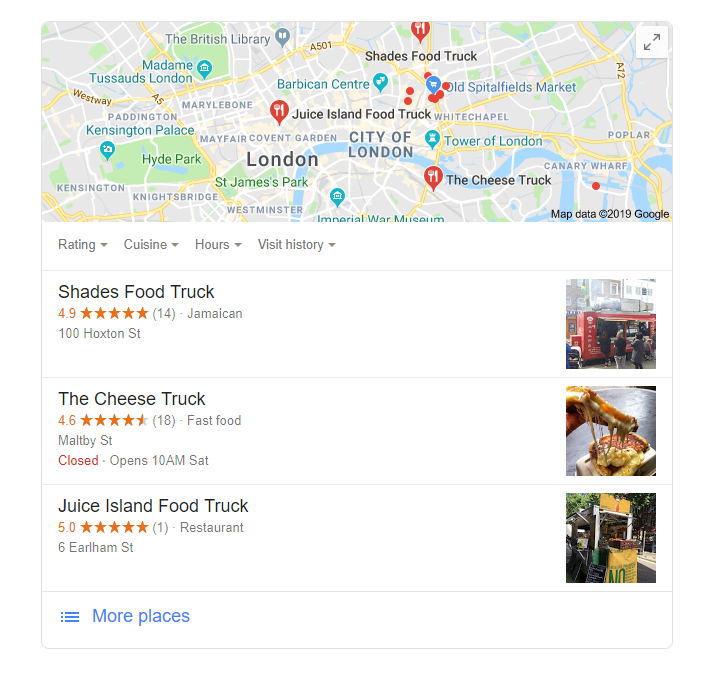 These results show the importance of a well-optimized profile.
Notice how the trucks that come up first are clearly named as food trucks, they have lots of 5-star reviews, and they feature clear images of their food and location.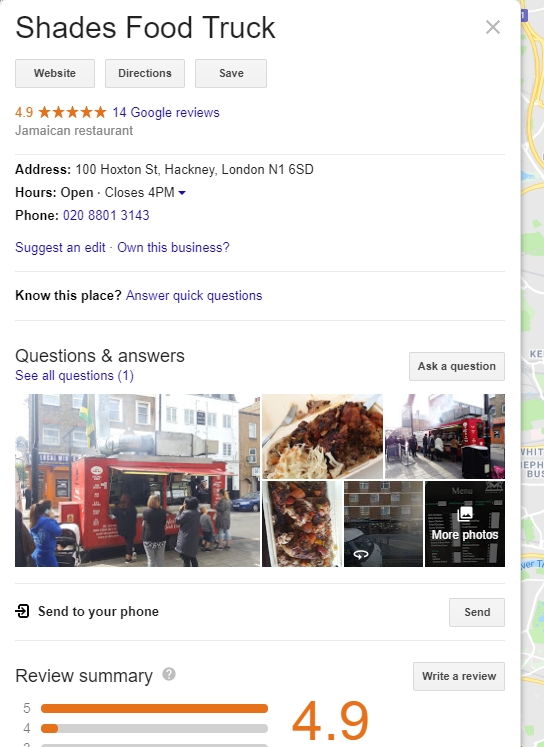 Make sure your address and opening hours are kept up to date and upload load quality pictures that show people how popular and tasty your food truck is.
And make sure you encourage people to leave a review. You can do this by entering their name into a competition when they leave their feedback.
This article explains more about how to optimize your food truck for local searches.
Build an App
Building an app for your food truck can help take it to the next level.
Customers want access to services at their fingertips, and that means mobile is important.
Put up a sign on your truck telling people about your app and post about it on social media. If you have an email list, message people about it. The aim is to get the word out as far as possible.
Here's how an app fits into your food truck marketing plan. You can:
Easily share contact details, addresses, website, and social media account information.
Communicate with customers via in-app messaging and send push notifications with updates about menu changes, new schedules, contests, and special offers.
Create mobile coupons that encourage your users to buy from your food truck.
Build a loyalty scheme to motivate repeat business.
Set up your own online ordering system. Customers put in orders from their smartphones and then pick them up when they arrive at your food truck.
AppInstitute makes it easier than ever to build an app. Just choose a template and fill in each section with information and images. Our tool can lift this data from your website and Facebook page to ensure it's consistent with the rest of your online presence.
Click here to start building an app for your business. It's free to sign up.
Create an Email Strategy for Your Food Truck
Email is another effective way to keep in touch with your customers.
All the most successful food trucks know the importance of building email lists.

You can use your email list to keep customers interested in your restaurant. Send them information about new menu items, events, or schedules. Or encourage people to visit your business by attaching subscriber-only offers and discounts.
The hardest part of creating a newsletter is getting people to sign up in the first place. You need to give people a good reason to do so.
Research by Disqus found that over 70% of people subscribe to email newsletters. The most popular reasons for doing so are:
To learn more about a topic of interest (36.2%)
To keep up to date with website content (35.81%)
To get special offers or gifts (14.84%)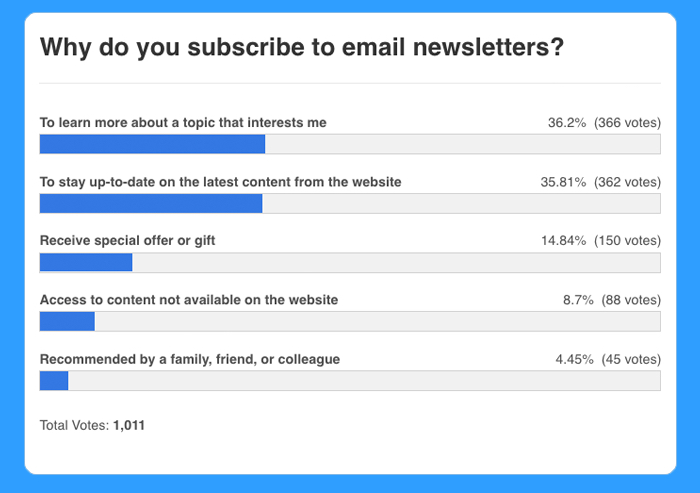 Use this information when promoting your email list. Point out how it will help regulars stay up to date with your brand. Or provide anyone who signs up to your list with a special offer or gift.
There are many tools that can help you create a newsletter for your brand. MailChimp is a popular one. It even has a free tier you can use that allows you to send emails to up to 2,000 contacts for free.
Learn more about how food businesses can use email in their marketing here.
Food Truck Marketing in a Nutshell
We hope this post has given you plenty of ideas to create a dynamic and powerful food truck marketing plan.
Marketing strategies evolve over time. You can't do everything at once, so start with areas where you feel the most confident.
If you like taking photos, sign up to Instagram and share food pics every day.
Or if you like creating content, start an email newsletter and send posts out to your email lists.
If you want to focus more on customer service and developing brand loyalty, an app would be the best place to start.
Other food truck marketing strategies like creating a Google My Business Profile and a Facebook profile are essential and easy for anyone to do.
If you enjoyed this article and you'd like more information about getting your food truck business up and running, read this guide on how to start a food truck or this one about creating a food truck business plan.
---