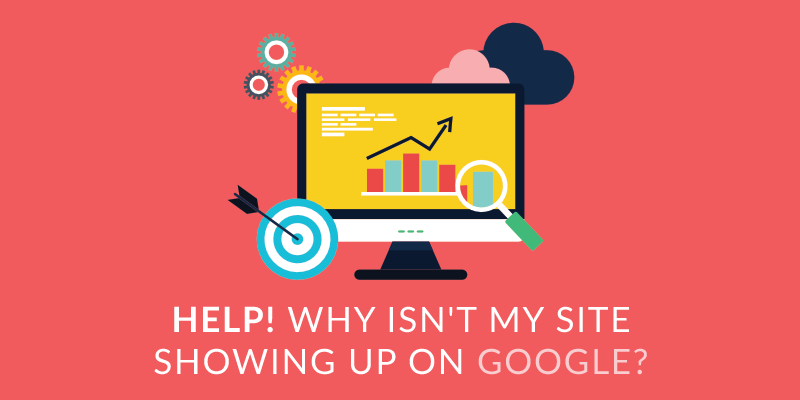 We can't stress this enough: it takes time for new sites to show up on Google. 
Yes, there are things you can do to speed up the process.
But not having much visibility on the search platform is something all new sites have to go through. It doesn't mean your site has a problem.
In most cases, with a good SEO strategy and some patience, it won't be long before you are climbing the rankings.
With that in mind, here are nine reasons why your website isn't showing up on Google.
Why Isn't My Site Showing Up on Google? 9 Reasons
You Haven't Indexed Your Website
It's important to know the difference between your site not showing up on Google at all, and your website not showing up on Google where you want it to.
These are different problems, with different solutions.
The first thing you should do is work out if Google has indexed your website on its search engine.
If it hasn't, you need to index your site.
Find out whether Google knows about your website by searching for "site:[yoursite'sURL] in Google Search.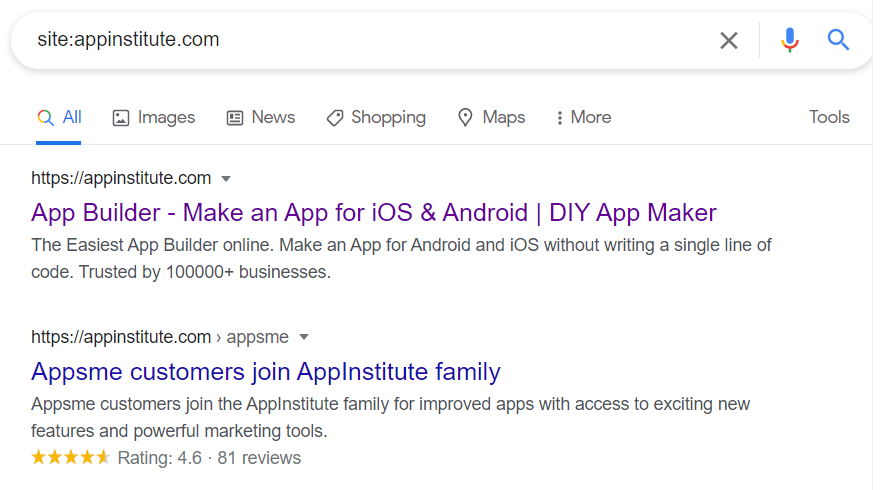 If your website is indexed, you'll see it in the search results like in the image above. If it isn't, you won't see any results here.

Fix: Create a Google Search Console Account and Index Your Website
To index your website, you need to set up a Google Search Console account. This free Google tool gives you full visibility into how your site performs on the search engine.
It shows data such as which pages it has indexed and the keywords that your website shows up for.
It's easy to set up an account. Just head to this link and follow the steps.
The trickiest part is DNS verification, which requires you to add a tag to your DNS record. If you aren't comfortable doing this, your hosting provider should be able to help.
Once you're set up and ready to go, submit your sitemap to your Search Console account.
A sitemap is a document that maps out all the pages on your website. It makes it easy for Google's search crawlers to see all the pages on your website and add them to Google.
To submit your sitemap, you'll first have to generate one.
You can do this easily with digital marketing tools like Yoast, although there are plenty of other options. Perform a Google search to find the best one for you.
Then add the URL to the sitemaps page of Google Search Console.

Once you've added the sitemap, wait for Google to get around to crawling your website.
You Haven't Indexed a Specific Page
Sometimes Google will have indexed your website, but not a specific page.
This is often the case if the page is new and the Google bots haven't crawled it yet.
You can test whether Google has indexed a page by searching for a specific URL in Google search.
If the page doesn't show up, Google hasn't indexed it yet.
Fix: Inspect the URL and Request That Google Crawls It
If you signed up to Google Search Console in step one, there is an easy fix.
First, copy the URL that you want the search engine to index.
Then log into Google Search Console and paste the URL into the inspect URL search bar at the top of the page.
This will show you all the information Google has about your page.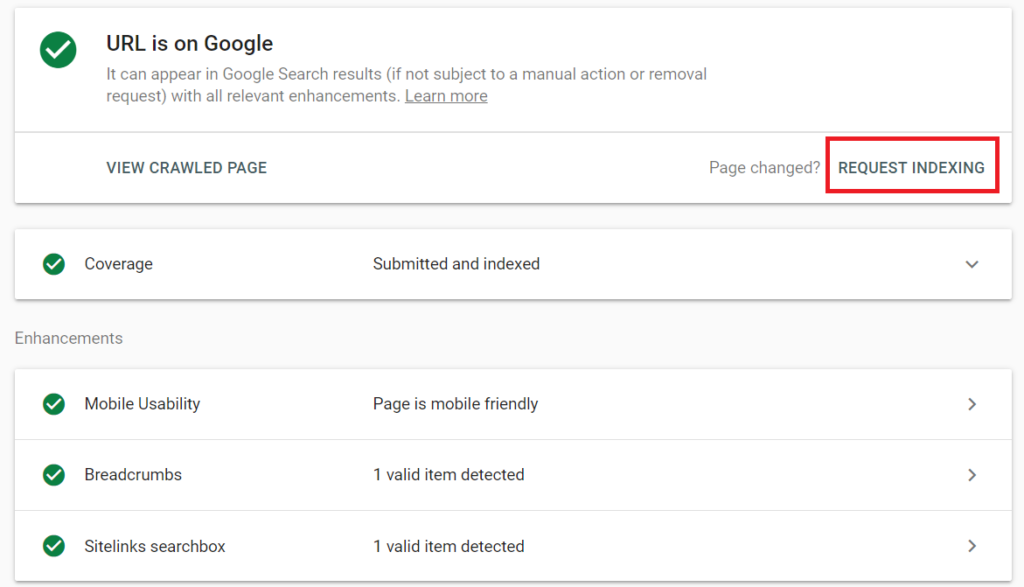 The screenshot above shows what the results look like if Google has indexed your page.
If the results say your page isn't yet on Google, hit the "Request Indexing" button. This will add your page to the queue.
Now you just need to wait for Google to crawl the page.
You can do this every time you publish new content. If you frequently publish new content, Google bots will crawl your website more often and your pages will be indexed faster.
Good internal linking can also speed up the indexing process. Search bots will follow these links to find your new pages.
You Asked Google Not to Index Your Website
The above two fixes will work in the vast majority of cases.
But if your website still isn't showing up on Google, it may be because someone asked the search engine not to index your website.
People can do this by adding a snippet of code called "noindex" to pages on your site. This stops search engines from indexing your website.
There are three main reasons why you may have "noindex" code on your website.
Your developer may have added it while building your website so Google doesn't crawl an unfinished version of the project. They may then have forgotten to remove the tags.
Content management systems like WordPress ask if you want to add the tag to pages on your site. You may have accidentally clicked the button during setup.
If you are using an SEO plugin, you may have turned on the setting to add the "noindex" tag to your web pages.
It's easy to discover if pages have the "noindex" tag. Just head to Search Console and inspect the URL in question.
The tool will let you know if the page has a "noindex" tag in the "Crawl" section of the results.
See how it looks in the image below.

If the page has a "noindex" tag, you need to remove it.
Here are two ways to do so:
Check the settings of any SEO plugins you use.
In WordPress, head to "Settings," "Reading," then uncheck the box titled "Discourage search engines from indexing this site."

If you've completed all the steps so far in this article, you can be confident that Google has indexed your website.
However, your site still may not show in the search engine for the keywords you want to target.
There are many reasons why this may be the case.
Our next few tips will lay out the most common ones.
Your Site Is Too New
New sites don't tend to rank as well as older ones. It typically takes months for new sites to show up for even the most uncompetitive keywords.
There's no single reason why this is the case.
But it's most likely because it takes time for Google's algorithm to decide what your website is about and then trust it enough to highlight it in the search results.
Fix: Wait It Out
The obvious answer is to wait it out. If your content is good enough and well optimized, your rankings will rise eventually.
You can often speed things up by building links to content on your site: both internal and external.
Internal links help Google search your site, while external ones will build your domain authority.
You can also use this time to start building traffic from other sources. Share your site on social media, buy PPC ads, or email a link to your site to people you know.
Many studies suggest that acquiring visitors from other sources may rank your page higher.
In fact, search engine marketing tool SEMRush puts direct website visits as its most important ranking factor.
Your Page Doesn't Match Search Intent
When people search on Google, the search engine tries to return the results that provide the best answer to the question.
To rank highly for a particular term, your page must align with what Google thinks is the best answer.
Fix: Align Your Page with the Google Results
The good news is that discovering searcher intent is easy. Just head to Google and see what type of content ranks for your search term.
Imagine you are putting in place a restaurant SEO strategy and you want to rank for the term "Best Restaurant in Washington DC." The first thing you'd do is search for this term on Google.
This will show you the type of page that Google likes to rank for this query.

As you can see from the screenshot above, Google shows lists of the best restaurants for this term.
Ensure your page has the same structure to have the best chance of ranking.
If your current page is an article about why your restaurant is the best in Washington, consider rewriting it as a best-of list.
Remember that what you consider a good match for searcher intent doesn't matter. The only important thing is what the Google algorithm prefers.
You Haven't Optimized for Keywords
You'll often hear people say that you should focus on quality over keywords. And in many ways this is true; Google does try to put high-quality content at the top of the search results.
But keywords are still a critical part of ranking on Google.
Without them, it is much harder (maybe even impossible) for Google to decipher what your page is about. No keywords make showing up on Google for the right searches much more difficult.
Look at the websites in the image for "Best restaurants in Washington DC."
The pages use some form of the keyword "Best restaurants in Washington DC" throughout.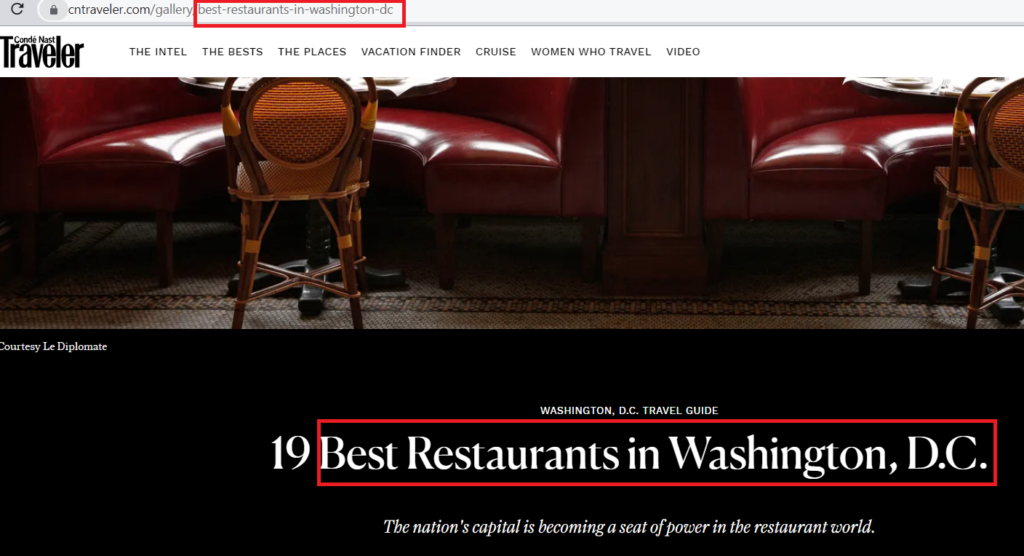 If high-profile sites with good editorial standards like Condé Nast Traveler and Culture Trip use keywords, then you should too.
Fix: Add Relevant Keywords to Your Article
The fix is simple, go through your article and add keywords.
How many keywords you add is up to you. But consider adding them in your title, URL, headings, opening paragraph, and body copy.
Free tools like Yoast SEO can provide you with some direction about what it considers keyword best practices.
A more advanced option is to use content optimization tools like Surfer SEO or Clearscope.
These programs analyze the content found on the top web pages that rank for a particular keyword. They then provide guidelines about which keywords to use and how many times to use them.
Below is a screenshot showing how Surfer SEO recommends keywords.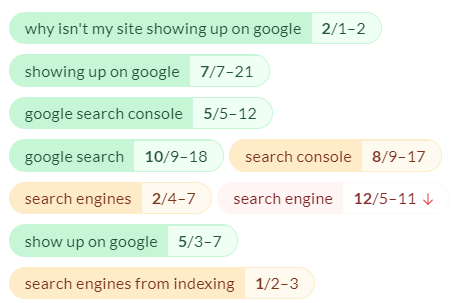 These tools also guide factors like how long your article should be, how many images it should have, and how many headings to use.
The downside is they can be quite expensive if you are just starting out.
Your Keywords Are Too Competitive
Even if you follow all the above steps, you may find that your content still doesn't appear on Google where you want it to.
Sometimes the simple reason is that you're trying to rank for a term that is too competitive.
If the websites that show up for a query are high-quality sites with tons of backlinks and a history of producing great content, it's tough for a new site to rank.
Often, it's easy to tell if a keyword is too competitive. Search for it on Google and take a look at the top sites.
If the search results page is filled with well-respected brand-name publications, that's typically a bad sign.
If you are unsure about the authority of the websites, you can use a free tool like UberSuggest or MozBar to analyze the sites on a page.
Here is the UberSuggest analysis for the term "Best Restaurants in Washington DC."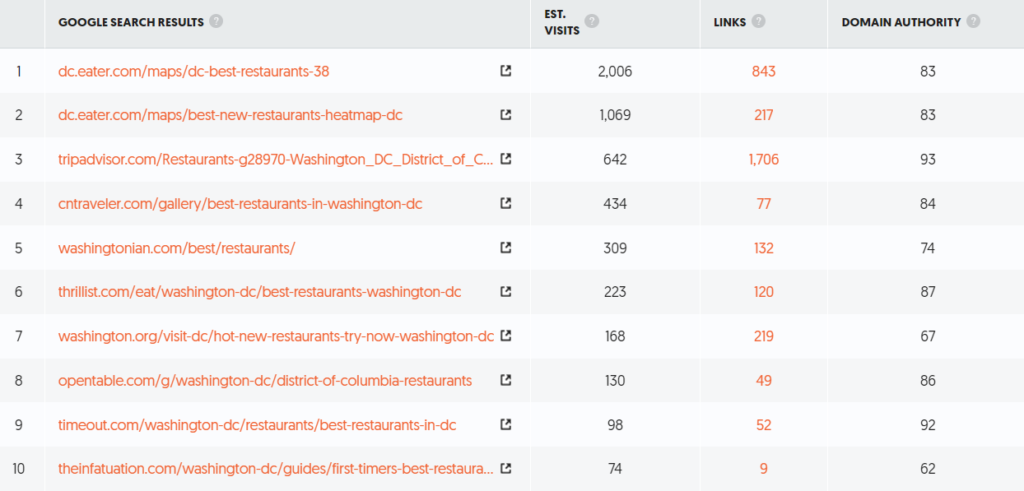 This is a very competitive term.
All the sites that rank have a Domain Authority of over 60, and the majority are over 80. Each page also has many incoming links, which is another sign that a term will be hard to rank for.
Fix: Build Your Site's Authority and Focus On Other Keywords
There's no easy fix for this, but there are things you can do to get around the problem.
The first is to start building your site's domain authority.
You can do this by attracting links from other websites. The more links from authoritative sites your domain receives, the more authoritative your site will become.
Do this for a few years, and you may end up with a site that can compete for more competitive terms.
In the meantime, you should try to target less competitive search terms.
These terms will typically have a lower search volume, but you'll end up with more traffic due to them being easier to rank for.
For example, the term "best restaurants in bellevue washington" has a search difficulty of just 6, compared to difficulty of 80 for the term "best restaurants in washington dc."

Of course, you should still make sure that the keyword is relevant to your article and website.
Keyword Cannibalization
Keyword cannibalization is a problem you'll typically come across once your website has been around for a while and you have built up a library of content.
The problem here isn't so much that your website doesn't show up in Google. It's that the wrong web pages are showing up for the wrong terms.
Cannibalization occurs when you have multiple web pages covering the same or similar topics.
It's especially problematic if an unoptimized page already ranks for a keyword you want to target when you'd rather a newer, more optimized page ranks.
Another issue is if you have category or tag pages that rank for a query when you would rather a specific page or article show up in the search results.
Keyword cannibalization may also occur if you have duplicate content. This is content that appears in more than one place on your site.
Fix: Wait or Redirect
If the page being cannibalized is relatively new, Google's algorithm may just need some time to decipher what it is about and rank it appropriately.
Simply waiting for the search engine to do its magic may solve your problem.
If this doesn't work, you may need to take more drastic action.
One potential fix is to improve your internal linking.
Add links with relevant anchor text pointing to the content you want to rank for the term. This will help Google decipher the page's topic.
You can also remove links pointing to the page you want to move out of the search engines.
Another option is to unpublish the unoptimized post. You can then set up a URL redirect so that anyone who visits the unpublished page will be sent to the one you want to rank.
Bear in mind that you may lose your ranking on other keywords the page was more suited to if you do this.
If the problem relates to your tag and category pages, you can use an SEO plugin like Yoast to request that the Google search bots don't crawl these web pages.

If you're worried about duplicate content, you can use digital marketing software to pinpoint issues. Siteliner is a great free tool for highlighting duplicate content.
You Have a Google Penalty
In rare circumstances, Google may have penalized your website and removed it from the search engine entirely.
This will typically happen when a site violates Google's webmaster guidelines.
If your website is penalized, you'll probably have a good idea why this was the case.
Typical issues include using automatically generated content, participating in link building schemes, or using scraped content.
You can see a full list of things Google wants you to avoid in its Search Central Guidelines.
Even if you are following best practices, it's still possible to get a penalty.
For example, a hacker may have gained access to your site and added low-quality or malicious content to your pages without you knowing.
Another problem is if you built your site on a used domain with an existing penalty.
Fix: Discover the Reason for the Penalty and Make Changes
In some cases, Google will tell you if you have suffered a penalty within the Search Console.
Just head to the "Manual Actions" section of the tool.

If you see an issue, update your site so it no longer breaks the guidelines. Then ask Google to reconsider your site.
Sometimes you may suspect that your site has suffered a penalty due to a drop in traffic. But this isn't usually caused by penalties: it's more likely that a change to the algorithm affected your ranking.
The best option is to wait and see if your site recovers on its own. Google algorithm changes often result in search ranking fluctuations that can see your site drop for a short time before heading back to its original position.
If your site doesn't recover, search on Google for information about algorithm changes at the time when your rankings dropped.
This may show you what the algorithm change targeted. If you think it makes sense that your site would be affected, you can improve it.
For example, in July 2021 Google released an update that targeted Core Web Vitals. Many sites that didn't meet Google's criteria suffered a drop in rankings.
By knowing what the reason for the drop is, site owners can take steps to help their sites meet the new standards.
There Are Many Reasons Why You Might Not Show Up on Google
Ultimately, there are many reasons why you might not see your website on Google.
New sites often have low search engine rankings. If you're in this position set up Search Console, add a sitemap, and then focus on building your site. Be patient, as it can take time to show up on Google.
As your site grows, you need to focus on building its authority and creating content that is well optimized for its keywords. This will help you show up for more competitive terms.
During this time, learn more about SEO to understand how to find keywords you can rank for and then create content that stands the best chance of ranking.
And remember, if you really want to show up on Google as soon as possible you can always pay for ads to get to the top of the results page.
For more marketing advice for small businesses, check out the marketing strategy section of the AppInstitute blog.