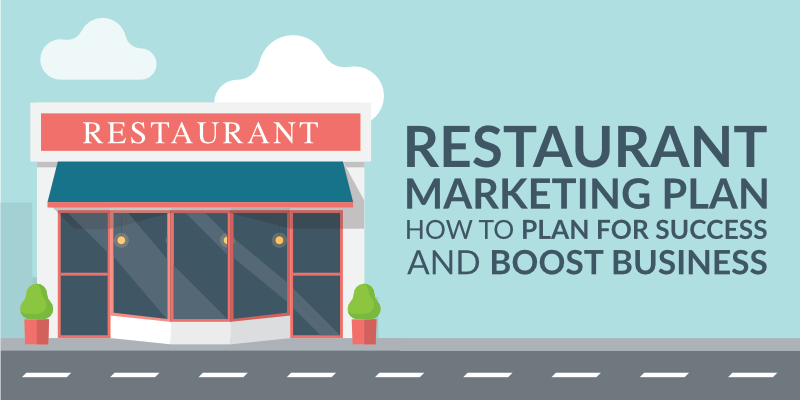 Most restaurants are poor marketers. They rely on a scattergun approach to attracting new customers and often aren't focused on the best marketing channels.
The restaurants that succeed are often great marketers. They ruthlessly focus on the key channels that work and know how to build customer loyalty.
Of course, some restaurants rely on word of mouth and incredible food to fill up every night on reputation alone. While that's a romantic idea, for most restaurants it's unrealistic.
This guide is a framework that any restaurant can use to build a restaurant marketing plan. It is NOT a list of plausible-sounding ideas – there are dozens of those in this article.
Instead, this guide will give you the confidence to create a restaurant marketing plan and build a healthy and sustainable pipeline of customers.
We want you to be one of those restaurants where people look in the window and say:
"Wow, that restaurant is popular."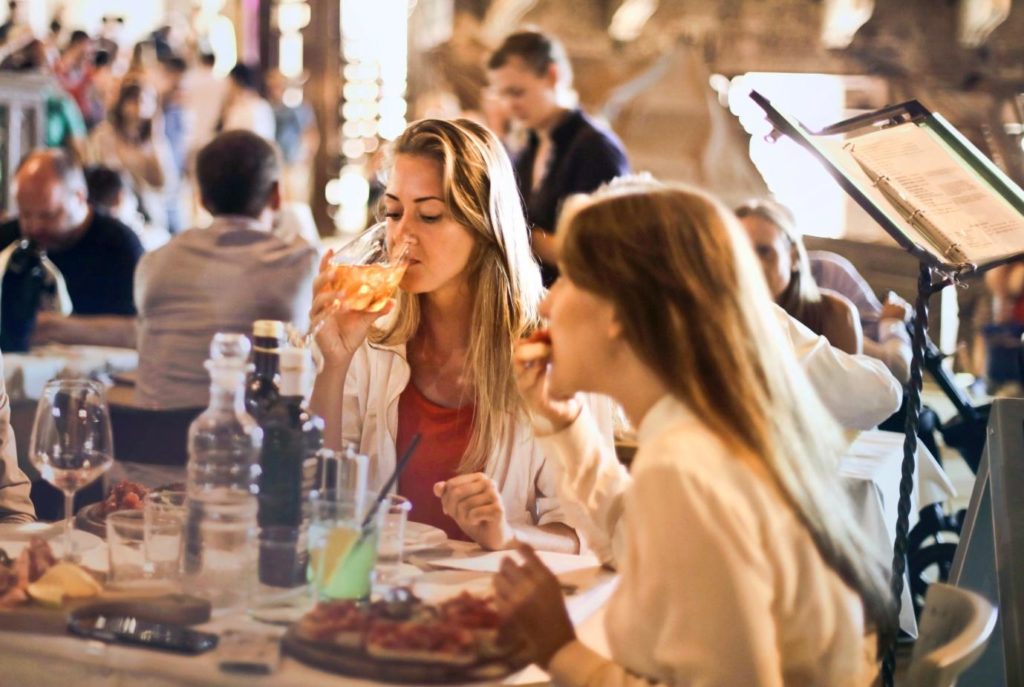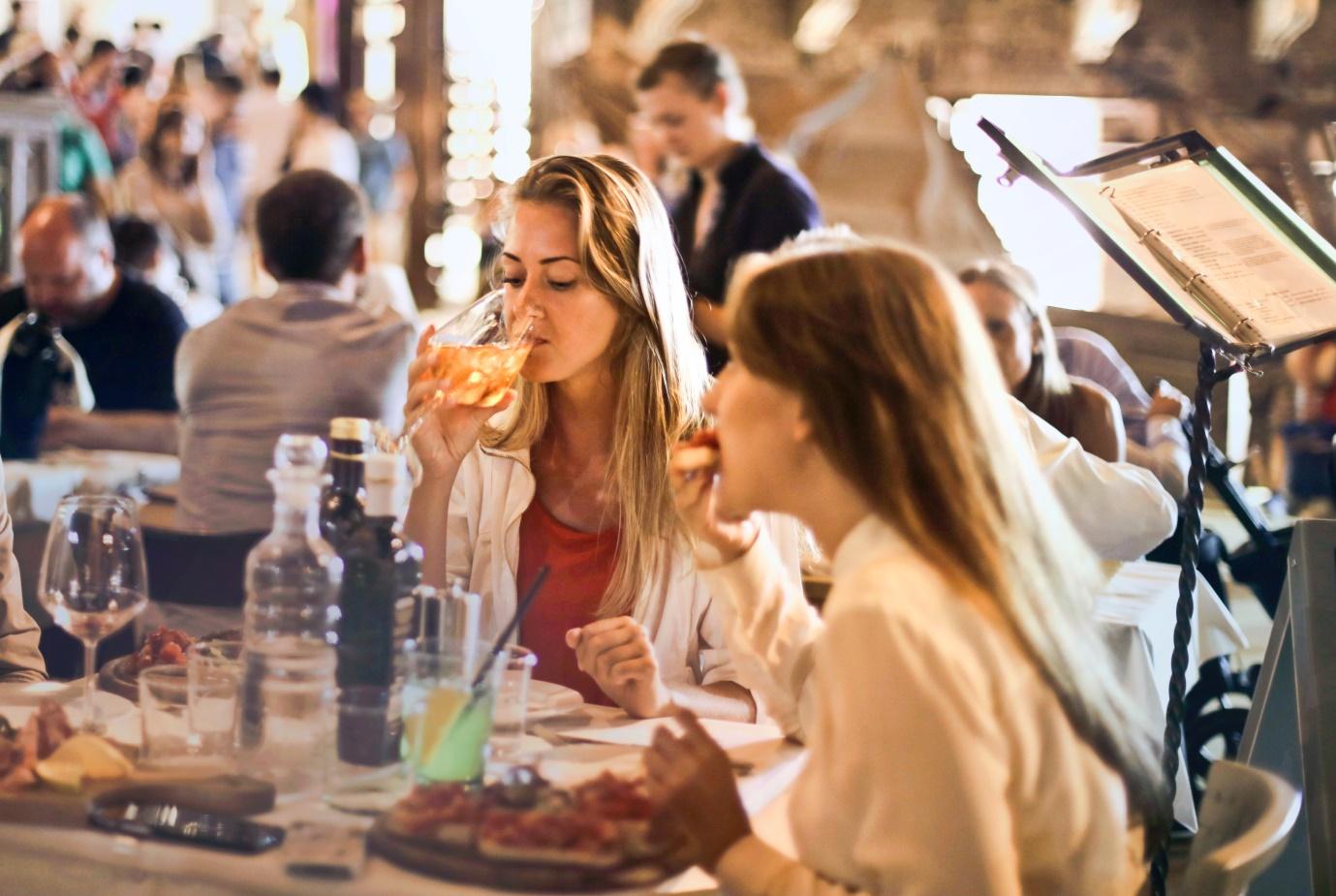 There is no trick to restaurant marketing – it is a set of core principles delivered consistently.
The key to a successful restaurant marketing plan is:
Having a framework to follow.
Being able to focus your efforts on key areas.
Tracking progress, so you know what works.
By the end of this guide you will be able to:
Develop a restaurant marketing strategy
Know how to track what works, so you can zero in on key channels.
Confidently build on your initial plan to boost return on investment
We hope you enjoy reading this guide as much as we enjoyed writing it.
10 Principles before We Start
You need to get into a marketers mindset – there are a million things you can be doing when you're running a restaurant and working on marketing seems like a luxury, but if you put in the time you'll reap the rewards. Here are ten principles to help you get into the right frame of mind.
Marketing is 90% perspiration and 10% inspiration: most people think that marketing is sitting around and coming up with grand ideas. Whilst that is certainly important, most marketing campaigns fail because of bad execution, not bad ideas.
Lots of thinking has already been done: don't feel like you need to be continually coming up with great ideas for your restaurant.
Choosing restaurant marketing ideas is a distillation exercise: a quick scoot around Google will give you more ideas than you'll ever need. The best marketers take this and make value judgments on which tactics will work for their restaurant.
Embrace trial and error: many restaurants' approach to marketing is to spend ages working on one idea, have it fail and then write off marketing for 12 months. Most ideas fail – the key is to keep learning, and the good news is that there are thousands of ideas to try.
Marketing is about tracking: the famous marketing quote rings true for many businesses: "Half the money I spend on advertising is wasted; the trouble is I don't know which half." Don't fall into the trap – instead, relentlessly focus on tracking what works.
One size doesn't fit all: A tactic that works for one restaurant will probably not work in the same way for another. Even within one tactic, say Instagram, there are a ton of ways to implement it, so you need to think about what works for yourrestaurant.
Great marketing is specific: following on from point six, the best restaurant marketing plans speak to the target market of your restaurant; while the overall plan may be fairly mainstream, great plans have unique elements.
Play to your strengths: if you're a great writer, photographer or social media marketer then take advantage of those skills to build a restaurant marketing plan. Even if you outsource the work, you will be able to quality check it more effectively and will naturally have better ideas.
Narrow your focus: there are many good ideas, and it's tempting to pursue them all for your restaurant. Avoid this temptation – instead, implement a small number of ideas well before trying other things. This will improve results and eliminate stress.
Don't give up: Finally, accept that delivering a restaurant marketing plan is a long-term process and rewards are unlikely to pay off in the short term. If you turn up every day and implement your plan with care, the rewards will follow.
The Foundations
Almost every restaurant approaches marketing backwards; they start coming up with ideas.
"I think we need a Facebook and Instagram page."
"Let's start an email marketing campaign."
"Let's host a loyalty program."
You need to take a step back. Before looking at specific tactics, there is a lot of work to be done in the form of asking some important questions.
Foundation Question One – What Are You Trying to Achieve?
It's not enough to say that you want to get more customers to your restaurant – you need to be a lot more specific. Start with your core objectives – we want to:
Increase the number of weekly covers by 40%.
Increase spending per head by 15%.
Improve revenue from midweek lunchtimes by $5,000 per week.
These objectives should be realistic and hard to achieve. You may want to have more than one core objective, and it is helpful to time-stamp it, for example, we want to achieve x within six months.
Also, make your objective easy to track – if you don't have data on spending per head and don't see a simple way to start tracking it then you should leave that metric out (unless you deem it so important that it's worth building a way to track it).
You'll likely have several objectives; a good number to work on at one time is between one and three – any more may dilute your focus.
Once you have made a shortlist of objectives, think about which ones are the most important and order them accordingly. This list is critical because it will act as the overall barometer tracking the effectiveness of your restaurant marketing strategies.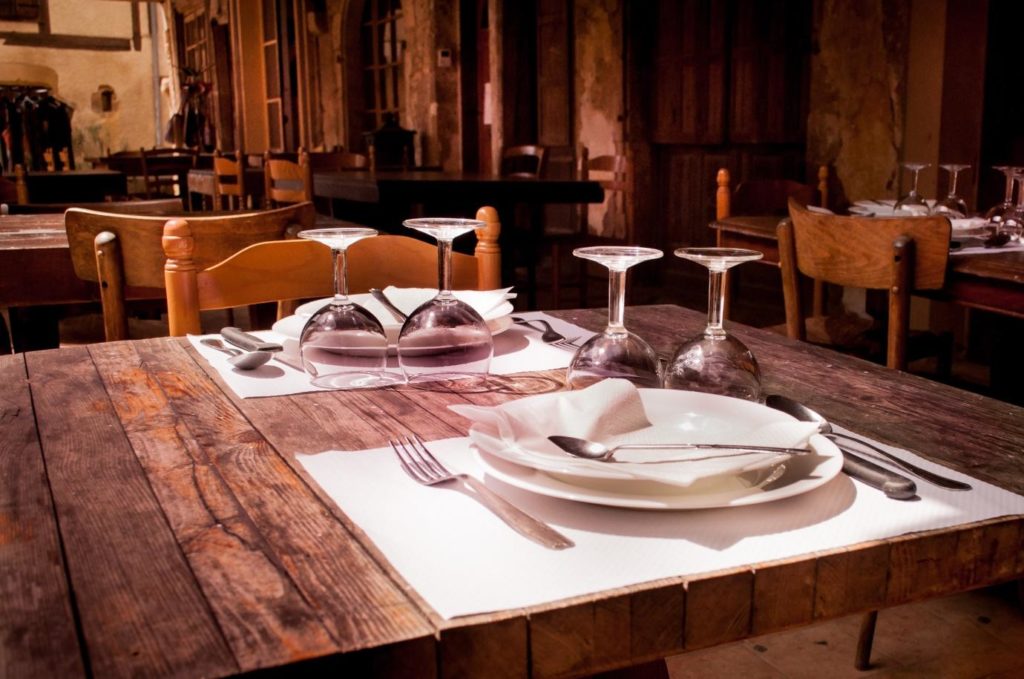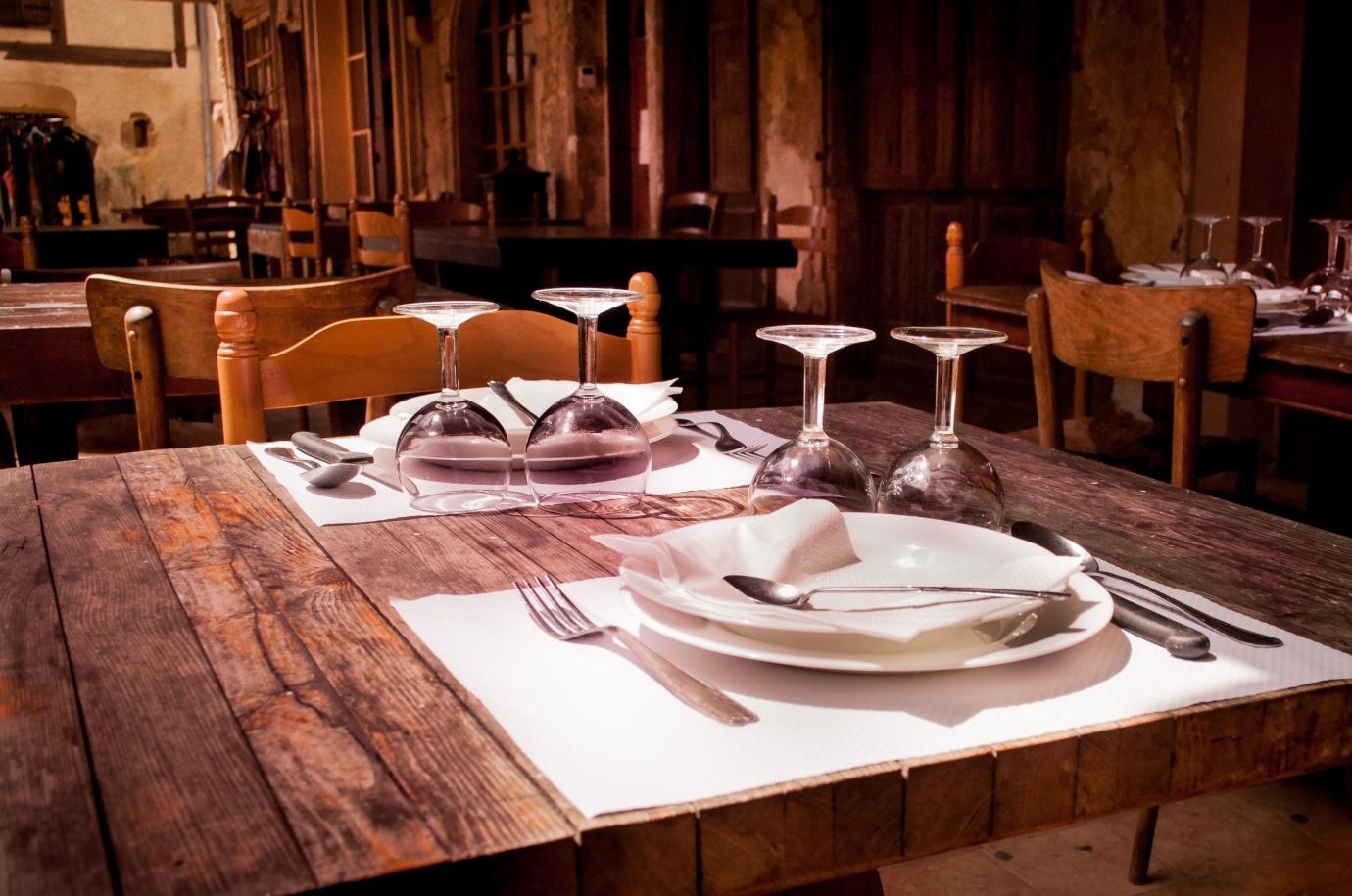 Foundation Question Two – Who Are Your Potential Customers?
Great marketing is a result of intimately understanding who your potential customers are, then speaking to those people in messages they understand and channels they engage with.
You will probably have a few different types of customers, for example, let's take a look at upmarket London restaurant Sartoria.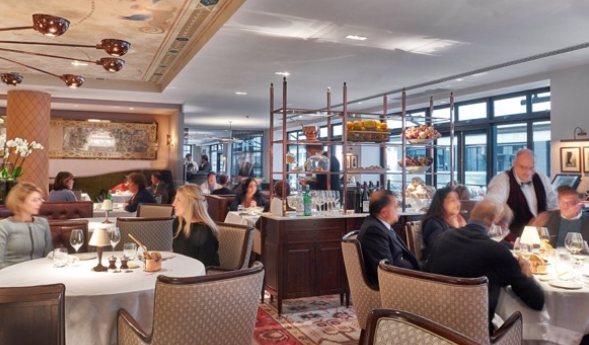 Sartoria serves a range of different customer types, here are just a few:
The business community.
Londoners on a special night out.
Wealthy regulars.
Tourists.
These are very different customer types, and they will respond to different marketing approaches. The first step is to break down each type into its characteristics; let's take a closer look at "wealthy regulars."
Type: Wealthy Regular
Age: Mostly 40 – 80.
Gender: Equal Split
Profession: Often retired, high-end white-collar work.
Spending per head: Generally high.
Why do they come? Quality of food, service, and ambience.
When will they attend? Often at quieter times such as breakfast, lunch or midweek evenings.
Where do they live? Mostly within 20 – 30 minutes of the restaurant.
What do they order? At lunch a heavy focus on premium wine.
How long do they stay? 1 to 1.5 hours.
Do they dine in a group: Normally two to four per group.
What is their average spending? Generally higher than average due to the expensive wine.
When you're building these customer profiles for your restaurant, the key is to get the right level of detail.
Separating Sartoria into just four customer types is still broad because within each type there will be many sub-types. You must decide on the right level of granularity – is it worth breaking down "wealthy regulars" any further?
It may be worth one further subset of "wealthy regulars" – if there are some high rolling clients who spend a lot more, they could be called "very wealthy regulars".
Foundation Question Three – Who Are You?
The best restaurants can clearly define a mission statement that should distil the restaurant's value proposition. The purpose of these statements isn't for a nice sounding marketing soundbite (although it is effective for this).
The real objective is to help you think about the identity of your restaurant; clarity on this identity will help you make decisions on who to target and how to target them in your restaurant marketing plan. Here are a couple of examples to get you thinking:
Seasons Kitchen, London: "We are food & wine passionate people aiming to offer honestly sourced produce, cooked well without too much fuss but some twists, alongside a short considered drinks list in a warm and convivial atmosphere."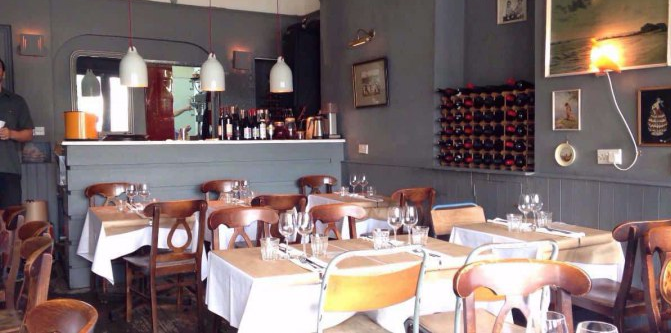 Alinea, Chicago: "Featuring a single, seasonally driven tasting menu of between 18 and 22 courses, the experience of dining at Alinea is not only delicious, but also fun, emotional, and provocative."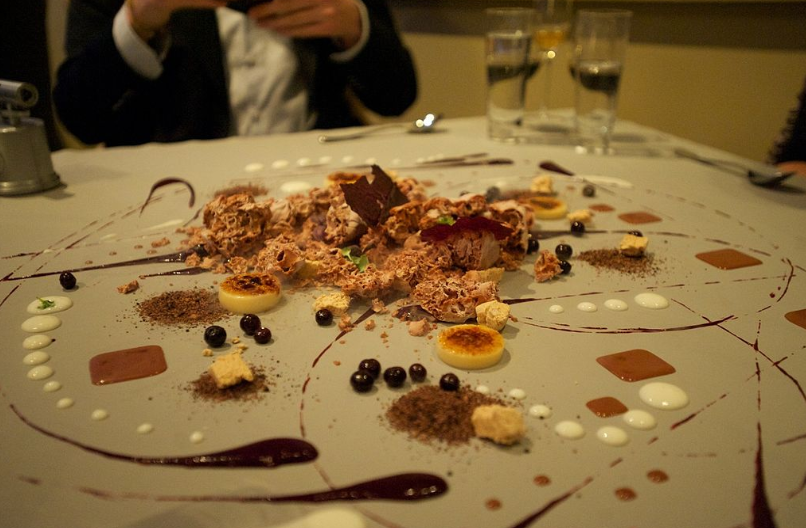 Porter House, New York: "The menu of seasonally-inspired American classics is complemented by expertly crafted cocktails, an acclaimed wine program and genuine, warm hospitality – all overlooking Columbus Circle and Central Park."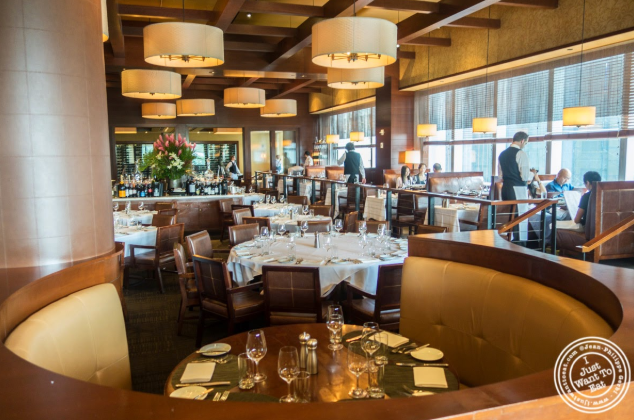 Alinea outlines the importance of the experience, calling it "fun, emotional and provocative". This is important to their restaurant, and it's important to get this point across in marketing.
Seasons Kitchen places importance on food cooked well "without too much fuss" – a very different message to Alinea, and a different marketing approach.
Restaurant Marketing Messages
Once you've defined your broad mission, it's time to think about what restaurant marketing messages you want to convey to customers. Let's think about the London restaurant Seasons Kitchen and what messages they want to convey through their restaurant marketing plan.
Season's Kitchen headline messages:
We produce high-quality ingredients.
We cook simple and good-quality meals.
We provide a friendly atmosphere.
This core messaging can be built into keywords, but this isn't essential.
Construct Your Restaurant Marketing Plan
Now we've covered some critical existential foundation questions, it's time to start building your restaurant marketing plan.
Develop a Starting Hypothesis
Marketing is experimentation; you need to develop a hypothesis and then test it. The more accurate your hypothesis, the sooner you will build out an effective restaurant marketing plan.
By hypothesis, we mean suggesting an idea that will deliver a certain result. A restaurant may hypothesize:
"By posting daily high-quality posts on Instagram with offers and syndicating this widely, we can boost our Instagram followers by 600 in the next 12 weeks. This will generate ten extra bookings per week."
Most restaurants develop a marketing hypothesis in an unstructured way. They might suggest that social media marketing like Facebook ads may work, or they may have an idea for a special event. Sometimes they strike gold, but often they get it badly wrong.
Let's look at how to come up with a strong hypothesis – here are five tips for your restaurant:
Look at the competition: Have a look at successful restaurants that serve a similar customer base and look at how they market. The restaurant can be different, but ideally, the target market is the same. You can look outside your city for ideas, but generally the more local the restaurant, the better.
Look backwards: if you've done restaurant marketing successfully in the past then consider reverting to what you know.
Learn about marketing: generally improve your understanding of restaurant marketing by reading books, blogs and listening to podcasts. Here are some marketing book ideas to get you started.
Make sure your hypothesis can be easily tested. If you can validate your idea using fewer resources of time and money then all the better because the test becomes a lower risk.
Ask experts: ask people who have specific knowledge to help you – a restaurant that's had success in the area you're trying or contact with specialist knowledge. Avoid opening the floor to everyone – this can waste time and confuse.
To help build inspiration you can build a long list of broad areas that you think are feasible for your restaurant, this may look something like this:
Digital
Website
Social media marketing
Search Engine Optimization (SEO)
Email marketing
Other platforms (TripAdvisor, OpenTable)
User-generated content
Content marketing
Link building
Offline
Print
Radio/TV
Word of mouth
Partnerships
PR
Dine-in Experience (improve the experience)
Special nights (for example, hosting a weekly happy hour)
Free samples
Excellent service
Once you've come up with sufficient restaurant marketing ideas make sure that you can:
Quantify the outcome: For instance,"We're going to get 1000 new Facebook fans."
Translate this to overall business goals: "This will drive $10,000 in revenue per month through people making bookings after Facebook promotions."
Define the activities that will achieve these results, for example, daily posting on social media.
Developing hypotheses should start as a brainstorming session, so start by pulling in as many ideas as you can and building a shortlist of approaches you think are realistic to implement at your restaurant.
This can also be achieved through detailed desk research – use the approach that you're comfortable with.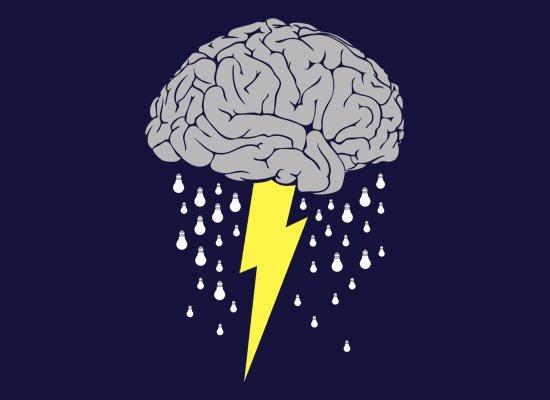 Create a Tracking System
The next step to your restaurant marketing plan is to work out how you are going to track everything. As mentioned, this is critical so you can judge how successful your efforts are and iterate effectively.
Your metrics should always be measurable and give you as much information as possible. To illustrate an example of good metrics, let's look at a fictional restaurant called the Sushi Emporium – a mid-market New York sushi restaurant with a seating capacity of 100.
One-year business objective: Increase revenues next year by 20% while preserving the profit margin.
To do this the restaurant needs to increase revenues by roughly 5% each quarter. It might be simpler for the business to turn this into revenue figures. For example, in Q1 we want to turn over $700,000 and in Q2 $735,000, etc. Make sure the objective is simple to understand and track.
This can be broken down into shorter targets; weekly, monthly and quarterly are common.
Produce revenue of $58,000 in week one.
This will then be broken down into marketing objectives.
In Q1 we will generate 14% more bookings through OpenTable.
In Q1 we will generate 3% more bookings through our website.
The financial metrics can then be tracked – a spreadsheet may look something like this. It will include actual versus budget revenues and break this down by a few different channels.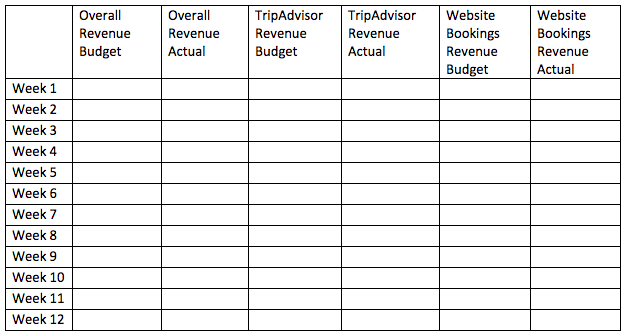 Increase the number of visitors who rate us on TripAdvisor by making the TripAdvisor excellence award more prominent on our menus and leave cards with the bill. The above metrics feed directly into revenue, but sitting beneath those metrics is a more detailed tactical restaurant marketing plan that drives the results. At the Sushi Emporium, there is a focus on TripAdvisor and Website bookings in the first quarter. There may be many tactics and experiments that help them meet these goals:
Incentivize TripAdvisor reviews by offering anyone that leaves a TripAdvisor review entry to a weekly prize draw for a free meal.
Respond to every TripAdvisor review within 24 hours of it being posted.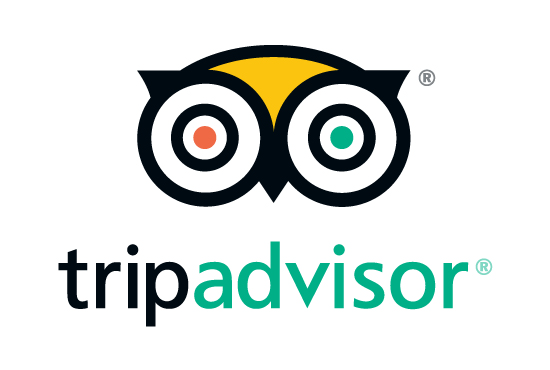 These tactics are very specific and can be tracked separately.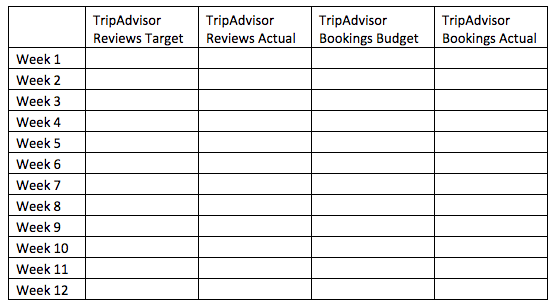 Even if the approach is working you may be left asking which of your restaurant marketing tactics is performing the best: is it the TripAdvisor visibility, the prize draw or the comments? It may be hard to unpick this, but you can turn tactics on and off to track what is working.
You may find that you can increase reviews but that it doesn't feed down into bookings or it may be really hard to get more reviews. Until you try, it is impossible to know what will happen.
The good news is that if you track efforts, then you can get a picture of whether more reviews are starting to drive bookings through TripAdvisor.
The best-case scenario is that the TripAdvisor approach works and adds meaningful results to your revenue, so you can see what tactic works, double down and make it better.
If it's the prize draw, for example, you can focus on better prizes to drive more reviews. Of course, once you know how much extra revenue TripAdvisor generates you're able to decide on an appropriate level for a prize.
If the prize draws are driving $10,000 per month in extra profit, spending $3,000 on free giveaways feels about right. If it generates $45,000, you can spend more.
Finalize Your Idea and Commit It to Paper
By now you have:
Worked out what you want to achieve.
Looked at who you are as a business.
Defined your customers and key messages.
Developed a shortlist of ideas.
Worked out how you can track everything.
The next step is to finalize and build out the plan.
Make a Decision on Which Approach to Use
Let's say you've come up with five or six really good ideas that are all well-considered, quantifiable and exciting – well done – a lot of the hard work is complete.
The next part is probably the most important – you need to decide where to start. As we've mentioned, most restaurant marketing plans unravel and then get placed at the bottom of the priority list. It's important to build some momentum with small wins and start to feel good about marketing.
So, you're sitting looking at five ideas – you want to try them all (many restaurants fall into this trap), but you are going to focus on two ideas. How do you decide?
You need to score the ideas on a scale of (1 worst-5 best), Rate:
How time-consuming will the idea be to implement?
The cost of implementing the idea?
The level of skill you have available to implement the idea?
How easy is the outcome to quantify?
The potential upside of the idea working?
Any risks to implementing the idea (for example, setting up a Twitter account then stopping it may impact negatively on your reputation)?
Once you've asked these key questions you should have a score for each idea – you may want to weigh some questions higher than others.
Iterate and Evolve the Marketing Strategy
The next step is just to keep going. Evaluate your plans every month or quarter and make sure you always keep the main business goal in mind. Marketing strategy planning should be ongoing rather than a one-off process.
As you become more confident with what is working you can develop more and more ambitious plans to double down on your successes. Spending $10,000 on Facebook marketing is a great idea once you:
Know how much revenue you can generate from Facebook.
Ensure that it is profitable.
Know that Facebook marketing helps you deliver your overall plan.
Can be confident that there aren't better uses of the money.
Comparing this to another discipline is interesting. In the technology startup world, there has been a lot written in recent years about something called Lean Startup Methodology.
Broadly the idea is to start small and iterate with businesses rather than going all in. There are two good books in this area: Zero to One by Peter Thiel and The Lean Startup by Eric Ries.
Sushi Emporium Marketing Plan
Let's look at a complete plan for the hypothetical sushi emporium:
Business Objective: Increase revenue by $150,000 in the next 12 months.
Marketing Objective: In Q1 Drive $3,500 of sales by adding 500 new customers onto our
mailing list.
Marketing Tactics:
Offer every diner entry to a prize draw for leaving their email address.
Every Monday send a weekly menu and discount for anyone who books for the coming weekend.
Implement customer loyalty programs to incentivize visits to the restaurant
Invest $500 in a Facebook ad campaign to drive mailing list sign-ups.
Note how the plan is modest in size. The Sushi Emporium will have started with a load of ideas and by going through a process of elimination has generated something simple to implement and track.
Inspiration for Your Restaurant Marketing Strategy
We're going to look at the following key players in the restaurant industry:
Global fast-food restaurant Nandos.
Chicago high-end restaurant Alinea
Boston Chinese-American restaurant Mei Mei
Nando's
Who Are They?
"Fancy a cheeky Nando's?"
Such is the success of the Nandos brand this phrase "fancy a cheeky Nando's?" has worked its way into our lexicon.
Started in South Africa in 1987, it now has over 1,000 outlets in 35 countries – if you walk past a Nando's you can be sure it'll be the busiest restaurant on the street. Marketing has been integral to this success – let's take a closer look.
Marketing Ideas
The 'Peri Boyz' got a lot of media attention for their video that popularized the term "cheeky Nando's".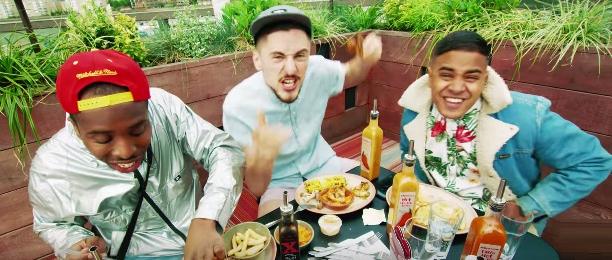 Image courtesy of spifftv.com
This video connected Nando's with the important teenage market – you can see it here.
The Nando's black card is a loyalty card that provides free Nando's for a year and is a clever ploy to create buzz and engage influencers.
Below is a passage from Nando's website that discusses the card – notice how it speaks directly to a millennial audience. Nando's is a business that understands one of its key target demographics.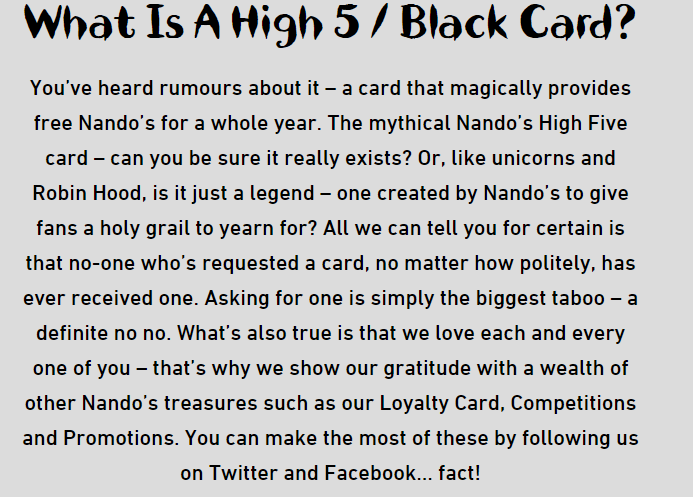 Image courtesy of Nandos.co.uk
Image courtesy of Nandos.co.uk
Alinea
Who Are They?
Now ranked the 21st best restaurant in the world, Alinea was opened in 2005 as a collaboration between Nick Kokonas and Grant Achatz.
Marketing Ideas
Alongside a unique fine dining experience, a combination of content marketing and PR was used to develop the brand. One of the first projects was to launch a book. It was a coffee-table cookbook that demonstrated molecular gastronomy (Alinea's house style). The book showcases 600 recipes with high-quality photographs for each. At the time it was published it was unique and Gourmet magazine named it the best in the country.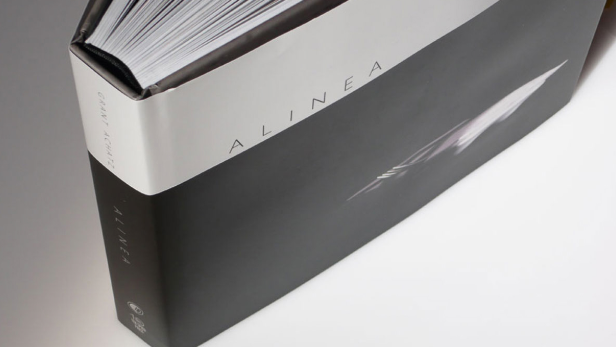 It was a great move that helped to put Alinea on the map.
Image courtesy of www.alinearestaurant.com
Head Chef Grant Achatz was featured in Netflix series Chef's Table, a phenomenal way to get international exposure and build a brand following. Kokonas also has his brand, recently appearing on the Tim Ferris podcast to discuss Alinea.
The business has clearly built a huge following, and now with three Michelin stars, it has become iconic. Yet without a great marketing strategy, it is unlikely to have happened so fast.
Mei Mei
Who Are They?
After opening up a food truck in Boston in 2012 and being voted as Boston's Best Meal on Wheels, a restaurant soon followed and they now also sell sauce. You guessed it – a large part of their success can be attributed to marketing.
Marketing Ideas
Mei Mei uses social media well to build a relationship with customers. One tactic they use is to showcase their restaurant staff.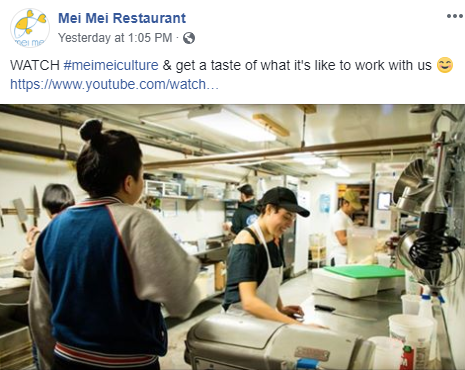 They also run classes to showcase their food preparation techniques.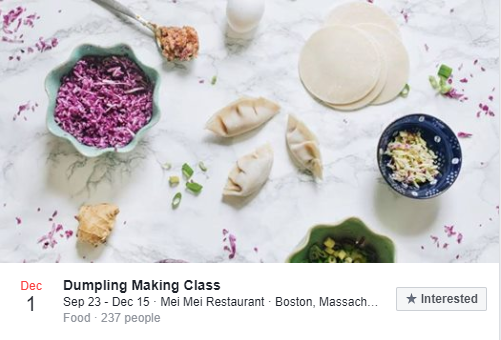 A big part of their image is the story – focussing on how the three siblings built the business.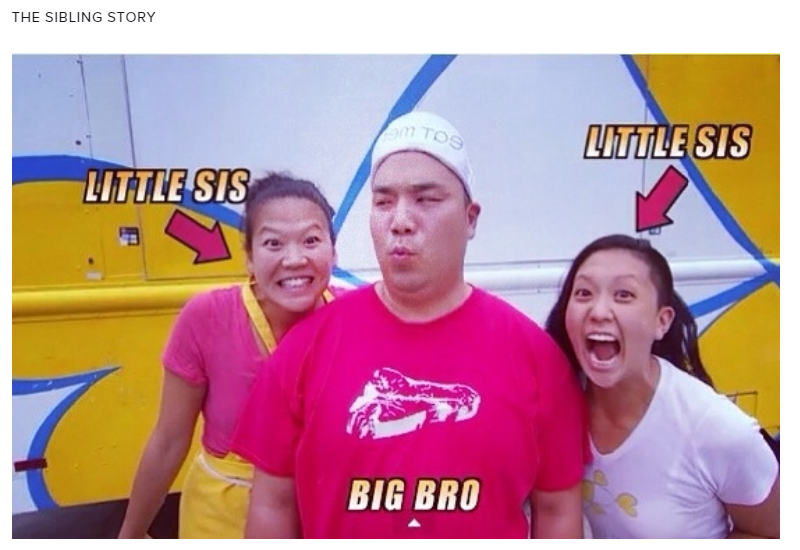 By being authentic and showcasing their team and techniques on social media, they give customers a sneak peek behind the curtain, helping build a connection with the business.
Conclusion
There are a million ways to market your restaurant. However, our advice is to avoid the common mistake of fixating on different ideas and instead build a framework that can support and sustain your marketing efforts over the long term.
Good luck!
---