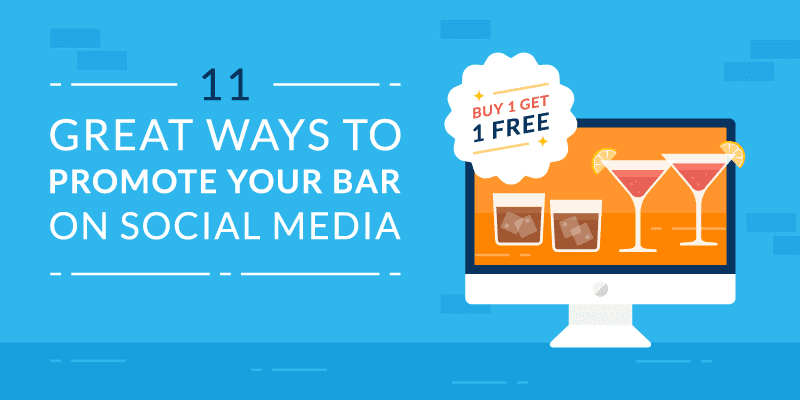 Social media is an extremely effective tool you can use to promote your bar. You just need to be sure that you have a good plan.
Your bar social media strategy should focus on two main outcomes: increasing the size of your audience and encouraging people to come to your bar.
The examples and ideas in this article will help you do both. We start with some ideas for how to increase your social media reach, and later we look at ways to get people through the door. Of course, many of the strategies fulfill both criteria.
Most of the ideas will work on any social media platform, although some—like encouraging customer reviews on Facebook—are platform-specific. When choosing which ideas to use, think about the ones that will resonate most with your customers.
Social Media Tips to Build Your Bar's Audience
1. Run Competitions
Competitions are a common low-cost tactic bars use to expand their social media reach. They work by asking people to interact with your post to be in with a chance of winning a prize. This interaction increases the exposure of your profile on social platforms.
To run a competition, first, you need to decide on a prize. Some options you could use include free drinks at your bar, VIP service, or a free meal. You could also offer something unrelated to your business—just be sure that the prize is something your customers want.
Once you have settled on your prize, you need to create a way for people to enter your competition. Common tactics include asking people to follow your social media profile or to comment, share, or like a post. You could even ask them to do all of the above.
Finally, you need to select a winner from the people who entered your competition. Just look at your post to find someone who entered correctly and get in touch with them to give them their prize.
Below is a simple example of how you can run a competition.
Note the instructions are included in the main image, so people don't have to click on the post for further details. The Stokehouse also includes a deadline to create a sense of urgency and encourage people to enter.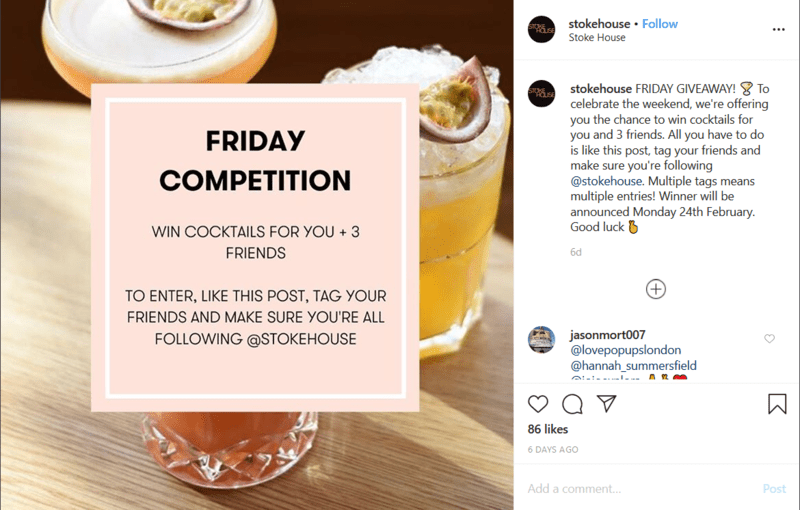 2. Use Social Media Influencers
Using influencers can help get your brand in front of an audience that might be interested in your bar—you just need to find the right people to work with.
It isn't necessary to team up with influencers with huge followings. Instead, look for local influencers with a similar audience to the people you want to attract to your bar. Consider both their location and their demographic. Check if they've bought Instagram followers as well.
Many social media accounts post about local venues, such as the London.Food account pictured below.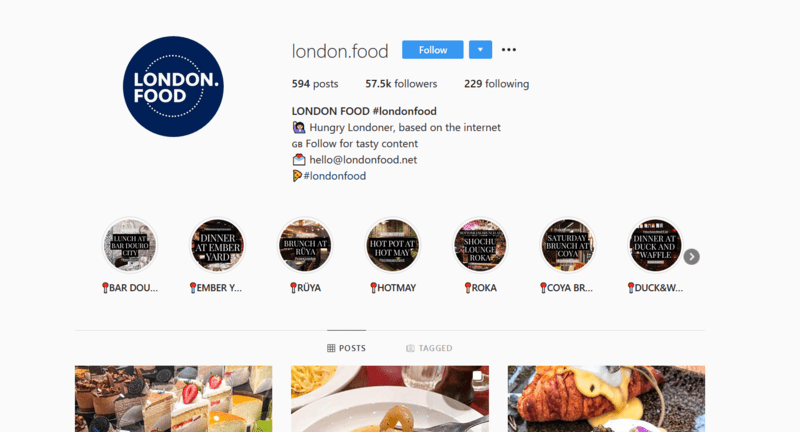 When choosing an influencer, be sure to check how engaged the audience is by looking at the number of likes and comments on each post. If the posts have low interaction, it either suggests an unengaged audience or fake followers.
3. Create Your Own Influencers
Encouraging your customers to post about your restaurant will help you create an army of micro-influencers. If you can get 50 people with an average of 300 followers to post about your restaurant, you'll get your post in front of 15,000 people. That could result in a lot of new customers.
For this to work, you need to give your customers a reason to post. Offering a discount to people who upload an image to their profile is one way to do this. However, be careful as this can lead to insincere posts.
A better option is to make your bar as Instagrammable as possible. Here are some ideas:
Present your food and drinks in a unique way that makes people want to share what they are eating.
Think about using statement pieces in your interior design. This gives customers another reason to share your bar.
Put on unique events that people are more likely to post about. If you need some inspiration, check out this list of 60 event ideas restaurants and bars can use to get customers.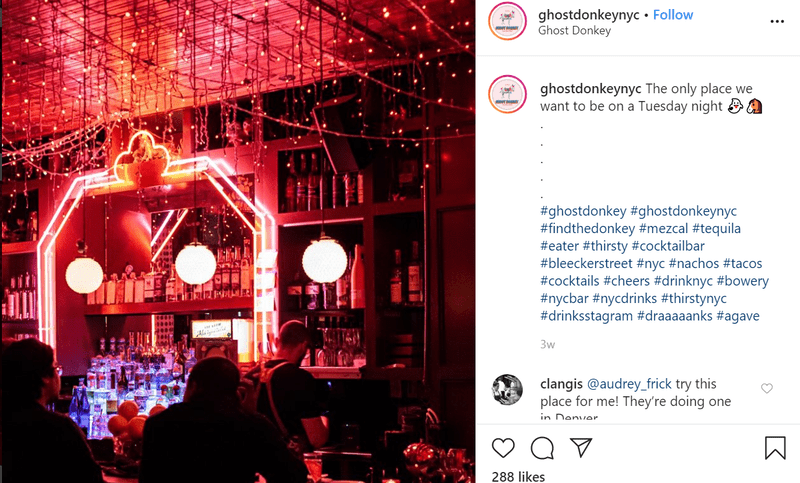 Ghost Donkey's eye-catching interior encourages people to pay a visit (and take a photo).
4. Collaborate with Other Businesses
An effective way to increase your bar's exposure is to work with businesses that have a similar audience to yours. By collaborating, both you and the company you work with will get your brand in front of the partner's audience. It's a bit like working with influencers, except it has mutual benefits.
To start a collaboration, you need to find a non-competing business with a similar customer base to yours. Then you work together to create a product and promote it.
You can see a good example of this in the image below. A local brewery and a coffee shop collaborated to make a coffee stout.
By sharing the finished product on their respective profiles, both businesses get their brand in front of a large audience of targeted potential customers.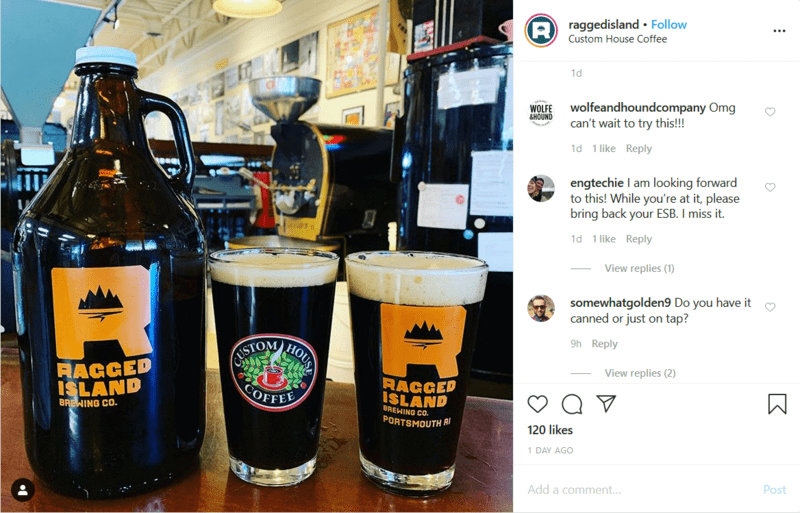 Hashtags increase the exposure of your posts. The key is to research which hashtags your target audience is searching for. Perhaps the simplest way to do this is to look at competing bars and see which ones they are using.
Remember that it's possible to use up to 30 different hashtags on Instagram. Using them all can increase your exposure, although you may come across as a little spammy.
One way to avoid this is to hide your hashtags by adding them further down your post under the description (or in a different comment) so people only see them if they click on your post. See the image below for an example of this.
When creating posts, experiment with different hashtags to see which ones affect the performance and reach of your tweets in positive or negative ways.

Social Media Tips to Encourage People to Come to Your Bar
6. Introduce New Drinks or Menu Items
Once you have followers, you need content to entice them to your bar. An easy way to encourage people to visit is to share information about new drinks or menu items they can buy.
This strategy is ideal for bars with an audience interested in the drinks they serve, such as breweries, wine specialists, gin bars, or even cocktail bars.
The below post from London Gin Club is a good example of this. It explains that they have a new gin, tells the viewer a little bit about the drink, and invites them to try it as part of the bar's tasting menu.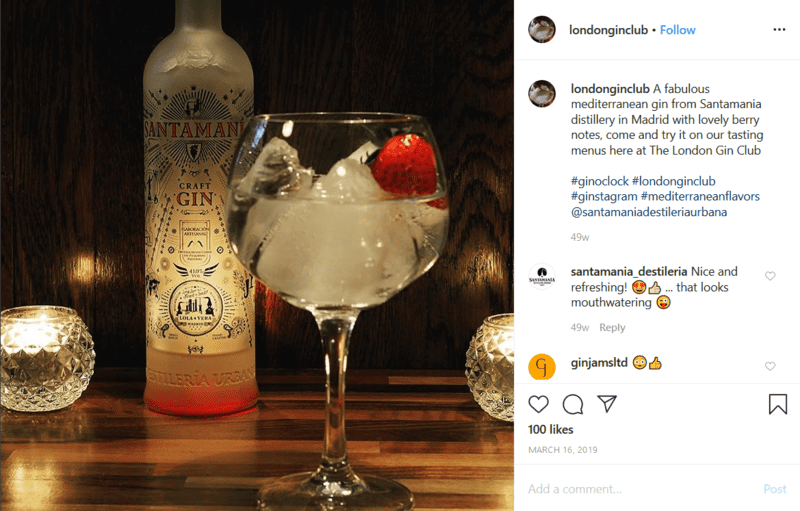 7. Start a Guestlist
Wouldn't it be great if you could guarantee a crowd at your bar before you even open? For some bars, creating a guest list is a great way to do this. Encourage customers to sign up to your guest list in advance by offering a free drink or a discounted entry to everyone on the list.
While you could do this via email or phone, asking customers to tag themselves and their guests on your post will increase its exposure. Not only will the people being tagged see the post, but also other people within their wider social network.
When creating a guest list, follow the example of the bar in the images below. It makes two posts for each event, one earlier on and one as a "last chance" style post, so anyone who misses the first one can still make the event. Having multiple posts also increases the chance that people will see it.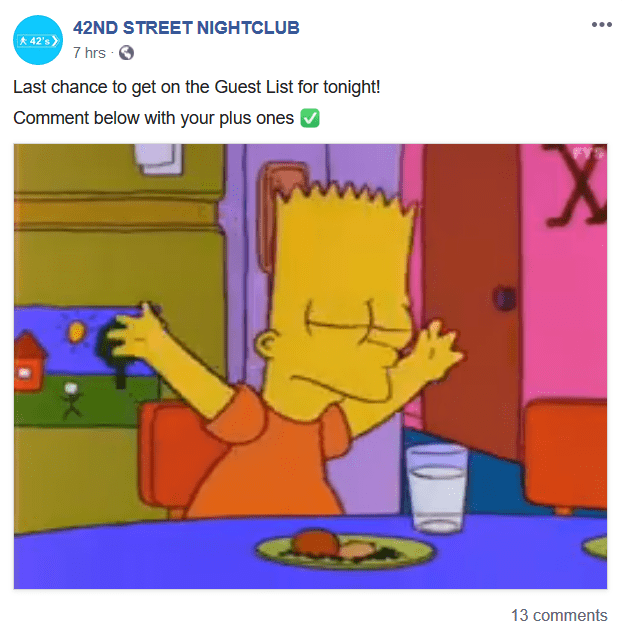 Facebook is a good place to run a guest list. However, there's no reason you couldn't do it on Instagram, Twitter, or whichever social network your audience uses the most.
8. Promote Discounts
Another good way to encourage customers to come to your bar is through offers or discounts.
A good offer has two main parts. First, it should be appealing enough to influence someone's decisions. A 10% discount is unlikely to convince someone to come to your bar. On the other hand, buy-one-get-one-free drinks or heavy discounts on certain items is more persuasive.
You should also include a time limit for the discount. Open discounts don't give customers an incentive to visit your bar soon. However, when people see that time is running out, they will be more likely to take advantage of the deal.
As for the post itself, check out the image below for a good example of how to promote your offer. The picture contains all the information people might need and is easy to read as people are scrolling through their feed.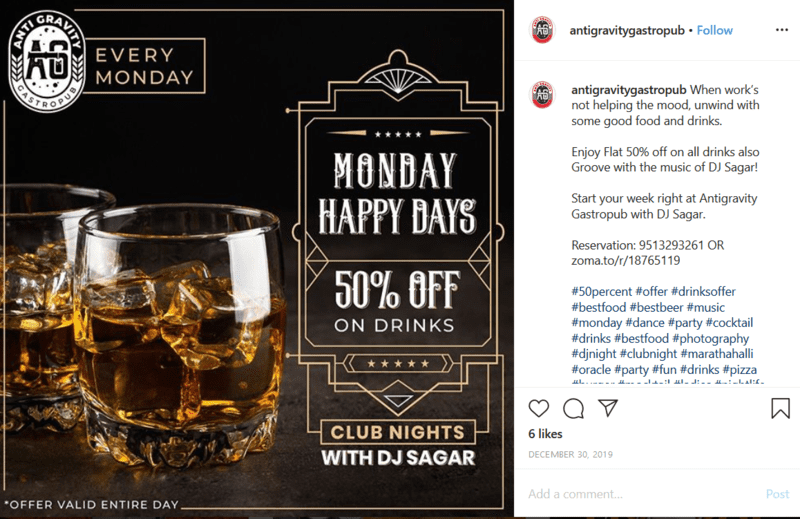 Additionally, the promotion of 50% off all drinks every Monday is clear and easy to understand. It is also is a good example of how a bar can use an offer to increase footfall on a day that would otherwise be quiet.
Your social media feed shouldn't just be about promoting your bar. Make things interesting by sharing behind-the-scenes updates. This can help build the connection between your bar and its customers, which can ultimately lead to greater customer loyalty.
Check out the post below from ModernistFresno. The post puts the spotlight on members of the team and suggests a wholesome family atmosphere, while also highlighting the fact that the bar's cocktails use only the "freshest ingredients."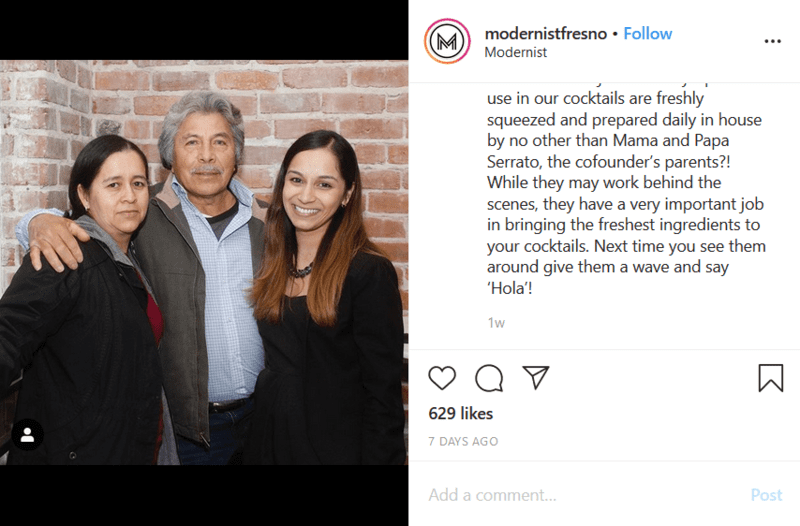 It can be a struggle to create new and engaging content continually. Bars can solve this problem by sharing high-quality user-generated images. Essentially, this provides a free supply of promotional material.
When sharing pictures taken by others, be sure to gain permission from the person running the account first. In the image below, Brooklyn Brewery has shared a post made by another user and tagged them in the post description.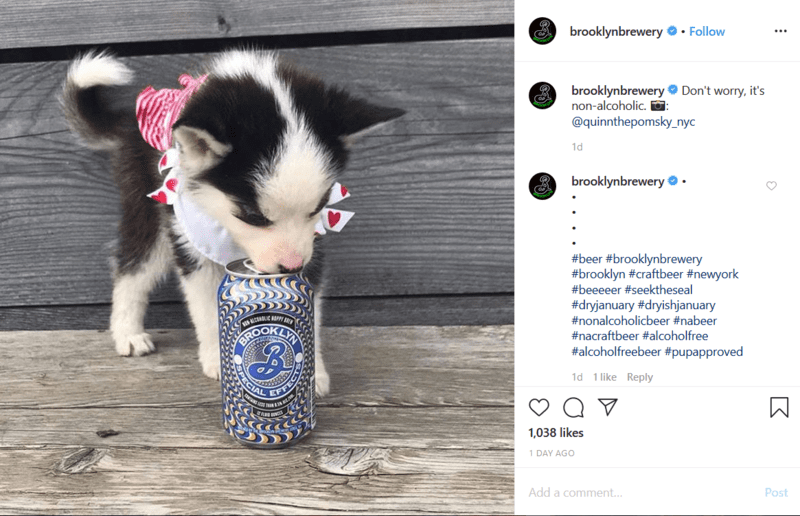 You can also easily reshare stories that people upload to Instagram if the user tags your bar's account in the story.
11. Gather Reviews
If you plan to use Facebook you should encourage customers to add reviews to your profile. This can have a big impact; a survey by BrightLocal discovered that 93% of consumers read online reviews for local businesses, with 91% of people saying positive reviews make them more likely to use a business.
As you can see in the image below, the "Recommendations and Reviews" section on Facebook is the first section shown to users.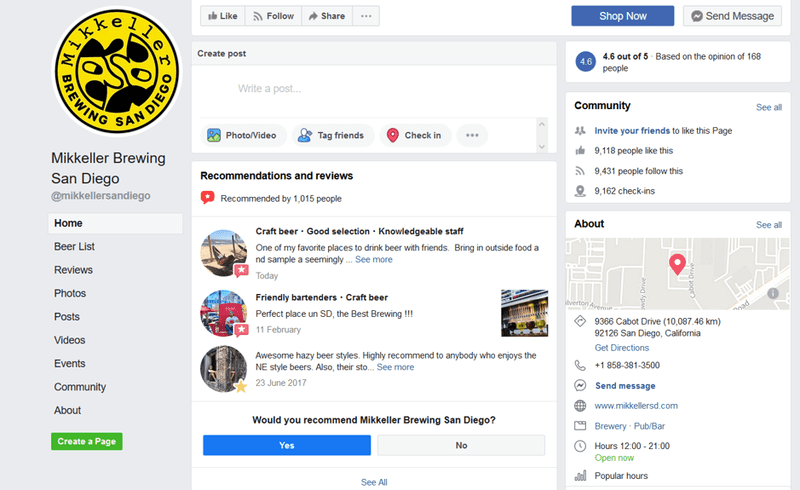 The good news is you don't need many reviews. Even two or three will be enough to give visitors to your page the impression that your bar is a nice place to go.
An easy way to get reviews is by sending out messages to friends or acquaintances that have visited your bar and asking them to post. Or put up signs in your bar encouraging people to leave a review if they have had a good time.
Wrapping Up
Social media is a good way to increase the reach of your bar and get customers through the door. While the majority of the above strategies will work for most bars, you should choose the ones most relevant to your audience.
For more bar marketing ideas, check out this article where we discuss six marketing ideas for bars and pubs. Or read this page, where we discuss how easy it is to build an app for your bar or pub.
---